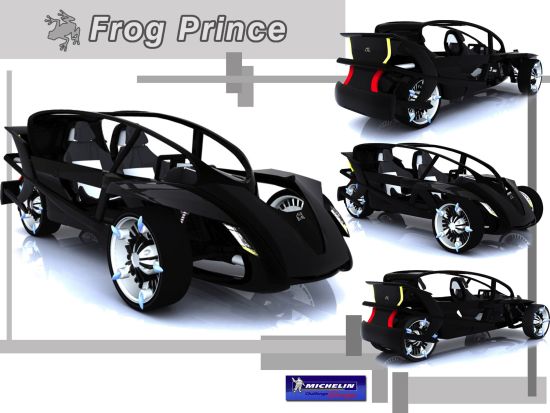 If the frogs of the world came to know they have inspired the making of a car, they would croak themselves hoarse with pride. For those of you who had been wondering why on earth should a car be christened Frog Prince, here is the answer – the car has four airbags placed between the main carriage and the front and back flexible carriages. This very idea has been inspired by the neck of frogs which gets swelled up when the frog inhales air. Just as breathing saves a frog's life, the airbags are meant to save lives too.

In the unfortunate cases of accidents, the airbags offer safety to the passengers due the scattered pressure resulted from the dispersion of pressure from a small concentration area. The design of the car is quite cute. I like it that the designer didn't decide to paint it frog-green but chose the classy black instead. It looks like a toy sports car, seriously. I can't believe somebody is going to take it out on a traffic-infested road. But if it is really so safe, I don't see why they shouldn't either.
Only a hot-blooded 21-year-old youngster can design a car inspired by frogs. I guess we should tilt our hats to Xinyun He for his efforts.
Source: Auto Motto