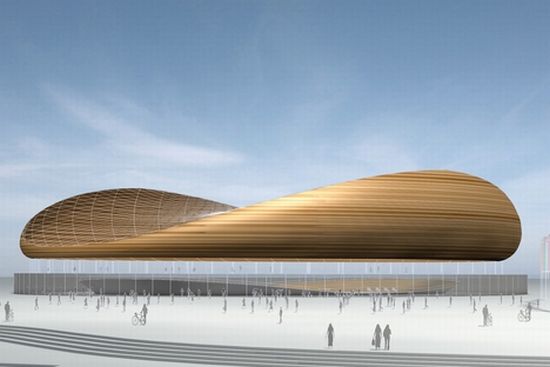 There is some bad news for the green brigade. The 2012 London Olympics will not be the green Olympics they hoped it to be. The Olympics have always been the ideal venue to flaunt the architectural geniuses. The 2012 Olympics is expected to be the arena of contemporary architecture with the Velodrome and the Aquatic Centre among other marvels. It was earlier announced that the roof of these structures would be made of sustainable wood that is the best material available to reduce pollution associated with construction, a sector with a significantly high pollution level. However, the rising cost of timber has forced the Olympic Delivery Authority (ODA) to replace the timber roof of the Velodrome as well as that of the Aquatics Centre with steel and concrete.
Hopkins Architects, who will be building the Velodrome, had promised to build it in an interesting fashion quite different from the common bland designs of similar structures elsewhere. The 6,000-seat Velodrome for the 2012 Olympics will have an upwardly curving roof at each end to give it an oval shape.
However, with out the timber roof, the Velodrome will not be the same green structure everyone expected it to be. With the current global inflation pushing up steel prices, can the ODA manage to reduce the cost of construction?
via: bd