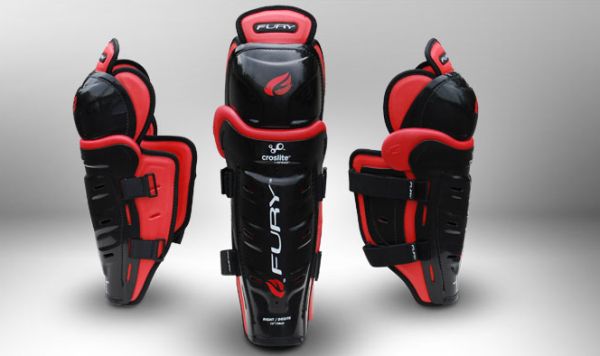 Fury Hockey Shin Guard is a great accessory crafted with cutting edge technology for protecting your shins during a hockey match. Ryan Salvage Design in collaboration with Lead Team Development has developed the design of shin guard with the help of various tools such as computer-aided design, industrial design and graphic design. As shins take the brunt of punishments from pucks and sticks, it is important to have durable and strong shin gear to protect you from fatal leg injuries.
This exclusive hockey shin guard is made out of lightweight foam, Crosslite, which is a material made out of Closed Cell Resin that is neither rubber nor plastic and also has an anti-microbial quality which makes it odorless and free from fungal and bacterial growth. Crosslite, a non-toxic material, is also known to reduce any impact during extreme leg movements, minimizing risks of serious injuries due to its optimum cushioning.
Inside the Crosslite foam are placed three compression molded pads that provide support to the knee collar and insert positions on the leg, providing great comfort as well as mobility. Furthermore, the Crosslite foam is resistant to penetration of moisture and air making it extremely secure. However, that does not make it air-locked, as the design allows the placement of holes and air channels.
The Fury Hockey Shin Guard was initially rolled out in nine different sizes. However, it is mandatory for the protective gear to fit perfectly and therefore, in order to comply with ergonomics, the shin guard can now be customized in order to match individual sizes as well.
Via: Ryansavagedesign