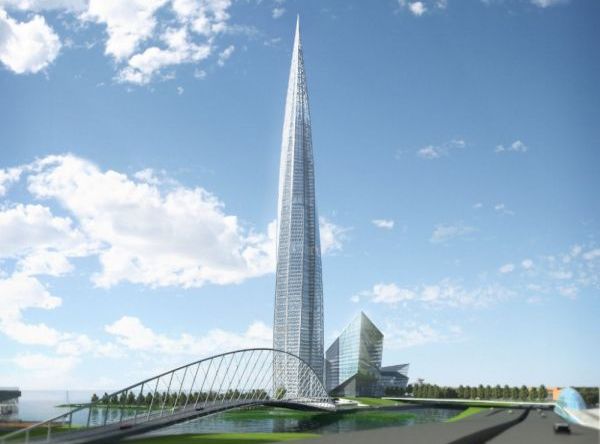 Russian oil & gas giant Gazprom will soon have a new headquarter building on the outskirts of the city of St. Petersburg in Russia. The design of the building has already been prepared by RMJM, which they started working on almost five years back. The entire cost of the project has been estimated to be around $3 billion and it would house the company's headquarter, retail and leisure facilities.

Initially, the design was supposed to have a tower with a height of 396 meters and the building was supposed to be located at Okhta district of St. Petersburg. After several revisions, the height of the tower has been increased to 426 meters and the location of the building has been shifted to a 17 hectare Brownfield site on the outskirts of St. Petersburg.
The design of the building bears heavy influence of the surrounding landscape of the city including the 18th century historical palaces of Peterhof and Tsarskoe Selo. Apart from the tall tower housing the head office of the company, the building and its surrounding area will also showcase beautiful water gardens, cascades and fountains. These gardens and fountains will be lit up at night making the building a viewer's delight.
The building has been designed to be sustainable and eco friendly. The building will be fitted with an electrical system along with a plumbing system to minimize the wastage of electricity and water. It will also be covered in an "intelligent" double skinned facade which would minimize the loss of heat in the freezing Russian winter and will also lower carbon emission from the tower.