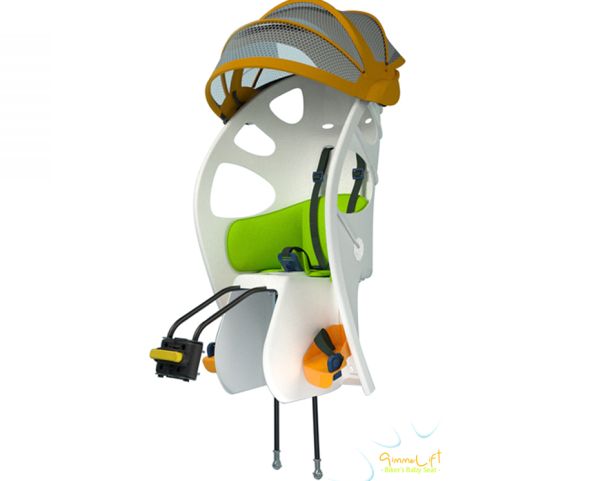 Your child is pestering you to take him/her for a bike ride but there are always safety issues when a child is seated on a two wheeler. Maybe this is what you fear and therefore, keep ignoring your child's requests time and again. Bikes are always low on the safety graph, as they don't have any support on either side. So, if by chance a child falls asleep or looses balance, it can prove to be fatal. Keeping all these factors in mind, Andrea Putaggio has designed Gimme Lift Biker's Baby Seat which will serve as a rear bike seat for children.
It has been crafted keeping in mind the UCD (User Centered Design) approach. The seat can be fitted on any kind of bike and can be snapped apart without much difficulty. It is very stable and, once fixed on the bike, it guarantees complete safety of a child. The seat has a safety lock shaped in the form of a necklace which can be snapped on to a child easily. The cellular shaped baby seat has a lateral opening which does not cause hindrance to the child's view. To protect your cute one from harsh sunrays and rain, a two layer capote has been fitted. The adjustable footrests will make sure that your child's legs don't keep dangling in air, which can prove to be very uncomfortable.
The inside has been designed in a very fine manner and children up to 22 kg can be seated in it. They have been made of 100 percent recycled polymer and have ecoleather paddings plus high reflective films present on both side and rear of the seat. But if you child is really small, the seat has two cushions that are inflatable and can be easily removed.
So, next time if your child bothers you for a bike ride, Gimme Lift Biker's Baby Seat is the answer.
[Cheers Andrea]