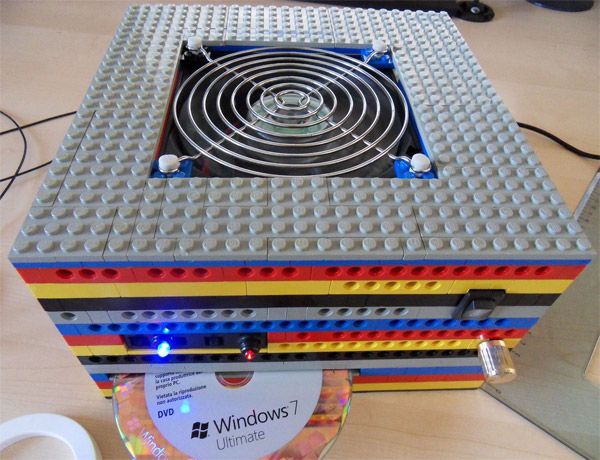 What you are looking at is not a fabrication of a juvenile mind, but a real PC made out of LEGO bricks. And it is not just an outer design template, it is actually constructed of primitive LEGO bricks, fitted together independently with no adhesive or external attachment. This construction is craftily designed, with a fan on the top, to prevent overheating of the device and to keep it cool and functional. Computer cooling is essential to remove waste heat generated by computer components. The LEGO PC serves this purpose by enabling effective air flow through the fan-gap on the top.

This plaything is not only cool, but also has extremely elaborate technology. It runs an AMD Athlon II 605e quad-core CPU running at 2.3GHz attached to an ASUS Mini-ITX board. It is fitted with USB3, SATA3, Bluetooth and WiFi, and has 8GB of zippy SODDR3-1333 RAM. It also hosts a couple of Samsung 250GB hard drives, a slot-loading DVD-RW and an ATI Radeon HD 5570 GPU.
Exciting to look at and practical to work with, this PC sure gets a thumbs up from our side.
Via:technabob