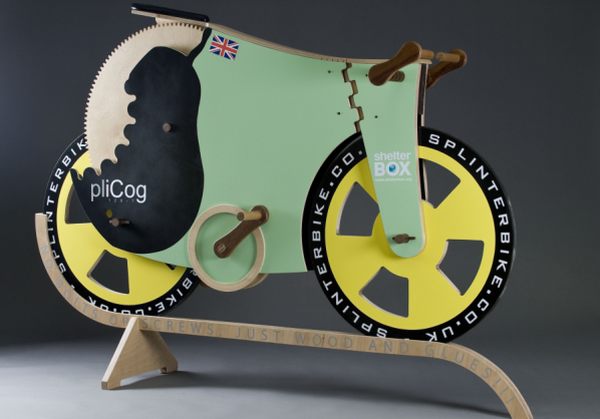 If you are a bicycle enthusiast, you will love to read this. SplinterBike is a bicycle made from wood. Okay, now if that's not something new, then hear this. It is currently the fastest all-wood bike clocking a max speed of 31mph!
Glued together by Evo-Stik Serious Stuff Ultimate Power Adhesive, the bike is 100 percent wood. The wheels of the bike have around 3.5mm of adhesive. This ensures that the bike has good grip on the road.

The bike is an assortment of all types of woods! Hardwood ekki for axles, birch ply for wheels and frame. So how about the metal bearings that make the wheels turn around? Would wood be able to do that? Well, the solution for this problem is made through the use of oily ironwood. Amazing!
But this was just the tip of the iceberg. How can someone make a wooden chain that will drive the bicycle forward? So the designers of the SplinterBike did away with the chain and brought a 128-tooth cog which attached the chaining and the gear to the rear wheel. Wow, what a workaround!
SplinterBike is a pretty good bike to ride. It looks strong and sturdy. Wouldn't creak though because it is wood. But will definitely pick speed and momentum like any other bike. The bike hasn't been tested on all surfaces, leave alone smooth surfaces. So to be fair, it's still something of a gamble. The makers say that the bike will go really fast on smooth surfaces.
via: Gizmodo