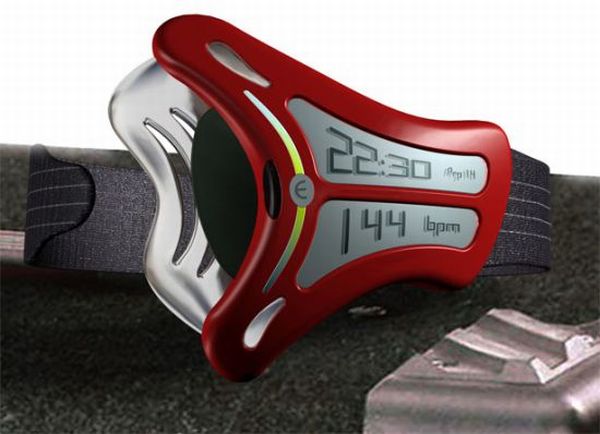 "Time is of the essence" more so for guitarists when you need to keep track the tempo of the song you are playing. Guitime is a multipurpose device which is basically a watch combined with other important devices used by probably any and every guitarist. It include a metronome, a tuner and a pick holder – these are the utilities which a guitarist has to invest individually but Guitime combines it all into one, tremendously cool looking package makes it an extremely useful device for a guitarist.
Guitime has two screens – one which tells the time and the other displays the tempo in beats per minute (bpm). With the help of the
two buttons that are provided at either end of the display area, you can change the tempo in the lower display or even switch it off. The device also vibrates in accordance to the selected tempo which is basically its metronome feature – it is helpful, whether you are just starting out on the guitar or an advanced guitarist trying to master that complex riff.
The shape is very similar to that of an electronic guitar that hint its closeness to the string instrument. Tuning the Guitar alike can be simply described as an ordeal for beginners and intermediates. Well, Guitime has been designed keeping this fact in mind. It has a microphone built in which can help tune a guitar. The curvature beside the display helps to understand how sharp or flat a note is. The note which is being tuned is shown in a display at the centre of the curved region and you can simply keep on altering the tension of the strings till the required tuning is obtained.
Pick holders are important investment to any guitarist as guitar picks are essential but sometimes have a tendency to get lost.
Guitime helps in this regard by including a pick holder to keep all your picks safe. Lastly, one should not forget Guitime's included digital watch. Combined with Guitime's slick design and its various feature designed by Hong Kong based designer Elvis Fung, Guitime is a device guaranteed to be a valuable purchase for guitarists everywhere.
Via: Walyou