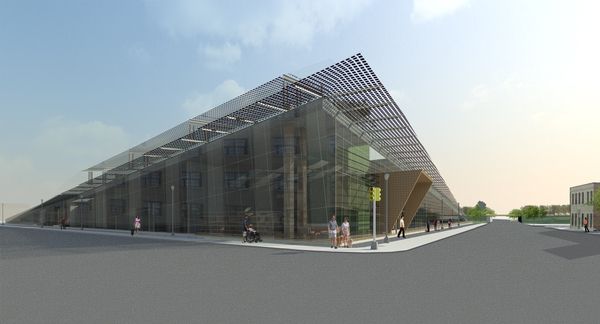 The common notions about animal shelters are generally not good. They are seen as tacky and unhygienic places with dirty surrounding, poor facilities and animal stench. While taking such notions as challenge, Milwaukee-based industrial designer Jessica Mulholland has conceived the Harbor View Animal Shelter. It's an environmentally sustainable, edifice that promises to provide good and clean living conditions to the inmate animals, and also provides good leisure value to the visitors.
Some of the common flaws, glitches and architectural anomalies while devising the animal shelters include paucity of day light, poor internal noise control mechanism, abase and squalid surroundings, tiny crammed animal enclosures, lack of a proper drainage system, dilapidated ventilation system and dreary spaces.
Adhering to the highest standards of engineering, Harbor View Animal Shelter was designed to tackle the above mentioned discrepancies. Being an apotheosis for animal shelters, it provides maximum sunlight and has inherent state of the art technologies to augment water harvesting activities. It also ensures that the electricity bills are kept low. Hence, the productivity is high and the surroundings are clean which makes it a delightful experience for the visitors.
It is also an iconic structure designed beautifully and meticulously on a sustainable model. The location has intriguing connotations as it lies amid the Rockwell Automation to the west which epitomizes the new rejuvenated brimming Harbor and a busy rail line to the east which is reminiscent of Harbor's industrial past.
Via: Behance