Golf is considered a stylish sport due to the immaculate attire on display at courses everywhere. Classy additions to every man's wardrobe are golf polo shirts. These are very versatile and go way beyond being classified as mere sporty attire. You will most certainly make a style statement by wearing polo shirts in summers while taking a stroll or dining out.
Since mens golf polo shirts have collars, they do not fall under the category of casual wear, and neither are they considered formal. You have got to love this cool, breathable garment given that it strikes the perfect balance between both the extreme categories. 
What's Great About Polo Shirts?
A well-fitted open-collared polo shirt draws attention when it sits comfortably on your body. When you allow the garment to do all the talking without trying too hard, a compelling look gets effortlessly created.
Golf polo shirts for men are designed, keeping the wearer in mind. They are not restricting and allow you more extensive flexibility as also keep moisture off you while under the hot sun. Polo shirts believe in promoting functionality along with cashing in on their style quotient. Sharing some handy tips to fashion this trendsetter and use it to your advantage correctly:
1. Nail the Fit
Opt for a slimly fitted shirt with tapered sleeves that flatters your body without pulling at all the wrong places. The sleeves should end around the halfway mark between your shoulder and elbow, allowing for free movement of your upper body. Lengthwise the shirt should end around your hip area, a little below your waist. Stick to neither too short nor too long trends to achieve a dapper look in men's golf polo shirts.
2. Tuck In and Button Up
A tucked-in polo shirt gives a smarter feel and draws attention to your fit frame. Wearing a sleek belt helps to keep the shirt in place while you're on the move. Depending on how low down your chest, the shirt opens up, button up at least midway to your neck. Not doing so makes you appear sloppy when it comes to your dressing sense. A smart turnout makes others take you seriously.
3. Pairing Matters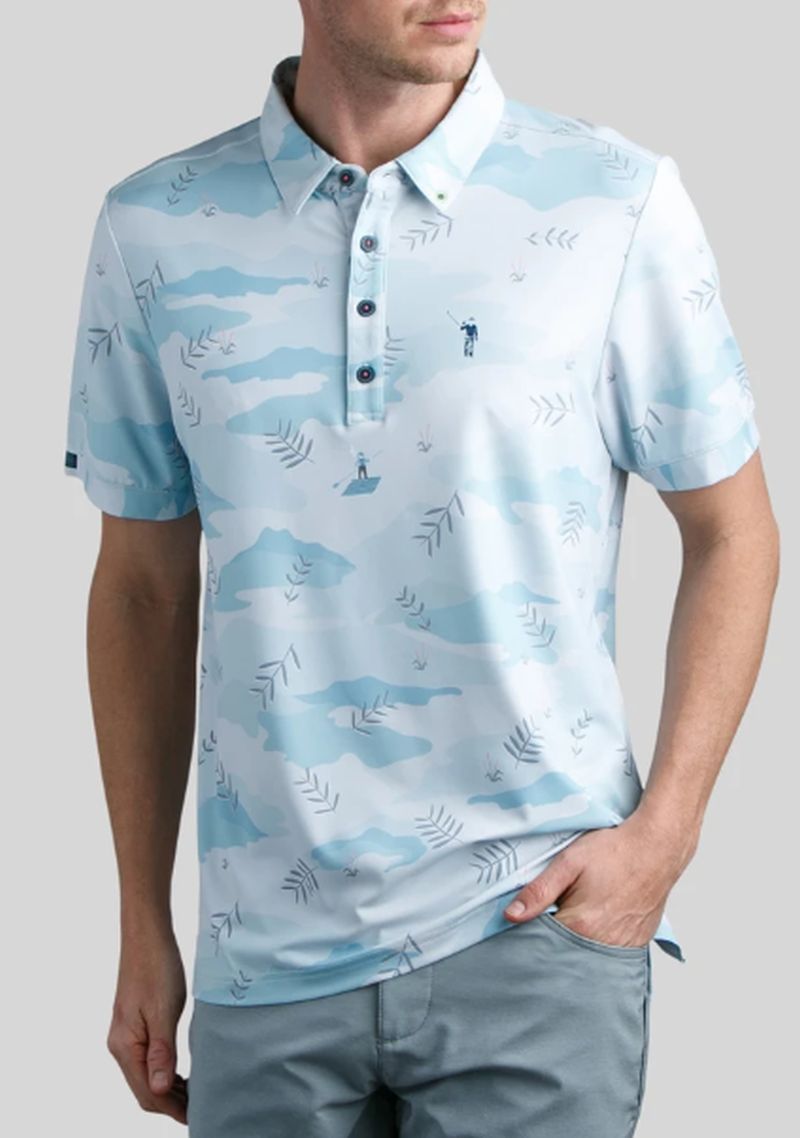 Your polo shirt teamed with a pair of slim chinos makes for a classic combination. These straight-leg trousers stretch the right amount and give you ample flexibility. Undoubtedly a boon to have on as you cover the length and breadth of the course while playing your 18 holes. Alternately well-tailored knee-length shorts in smart patterns also combine well with golf polo shirts.
4. Put Your Best Foot Forward
Gone are the days of chunky spiked golf shoes reserved exclusively for providing stability while pursuing the game. Comfortable and stylized golf footwear has since been introduced. These are designed on the lines of smart sneakers, which serve the same purpose as their original counterparts. Wearing loafers in solid colors like black, blue, or brown also completes the overall look.
Having an assortment of polo shirts in colors that are easy to mix and match is recommended. Tee off while dressed the part and witness your game transcend to greater heights.
Article Submitted By Community Writer