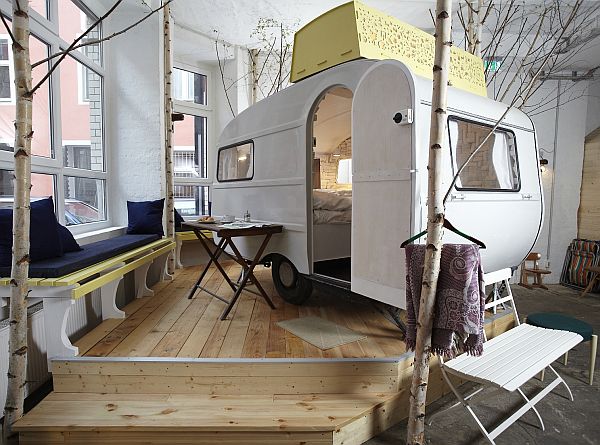 There is no dearth of luxurious hotels all around the world but luxurious accommodation is often too expensive and, for some people, it is downright boring! The Hüttenpalast is a new unique concept hotel in Berlin that offers an unusual and exciting accommodation facility. It is not a hotel in the classic sense and the rooms here have an outdoor adventure kind of an aura.
The brainchild of Silke Lorenzen and Sarah Vollmer, the concept hotel is located in a former vacuum cleaner factory. The rooms on offer are not ones that you would find in any other hotel; these are actually renovated old campsite caravans. Apart from the caravans, many new wooden huts have also been built for accommodation. These rooms are fully furnished and well-designed.
This concept is mainly targeted at the budget accommodation sector with the tariff being 30 euros for a night. In the future, they have plans for offering more luxurious accommodation facilities. Lorenzen and Vollmer have plans of building six en-suite rooms in an adjoining section of the former vacuum cleaner factory. Reservations are going to begin from the month of June.
Via: Mocoloco