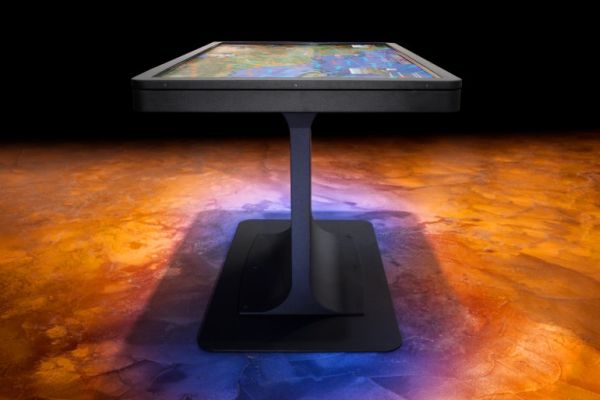 In this era of multitouch phones, monitors and other such devices, one cannot really predict what the next invention would be. Multi-touch tables are something that catches our focus. If you are updated about the multitouch gadgets, you must have heard about the high definition LCD multitouch tables by Ideum.
Now, Ideum has added some more functionality to that 55-inch model. This new invention, a 31-inch tall multitouch table named MT55 Platform, possesses single button operation and LED under-table illumination effects along with the Bluetooth and Wireless LAN that is present in the older series as well.
The most interesting feature of MT55 Platform is its size. With 76 mm top surface and 57 mm bottom, MT55 can be termed as the thinnest commercially available multitouch table. Being proficient at handling 32 touch points, the platform features an optical touch system. In addition to this, the device also comes with an SSD storage system.
The hidden physical ports present in the system include HDMI-out, USB 2.0 and Ethernet. Windows Professional is the software on which the table is run. With a consumption of 400W, the table enjoys an additional benefit 802.11b/g/n and Bluetooth connectivity, supplied with a Bluetooth keyboard.
This multitouch table sells for $17,950 including the GestureWorks SDK that supports 200 gestures, plus pre-built Open Exhibits. You can even enjoy an Intel Core i7-620M processor running at 3.06GHz for additional $750. Furthermore, if you shell out $1,000, you can have the top surface of the table protected with the help of micro-etched HaptiGlas, which is a non-reflective, scratch and fingerprint resistant surface.
Via: Gizmag