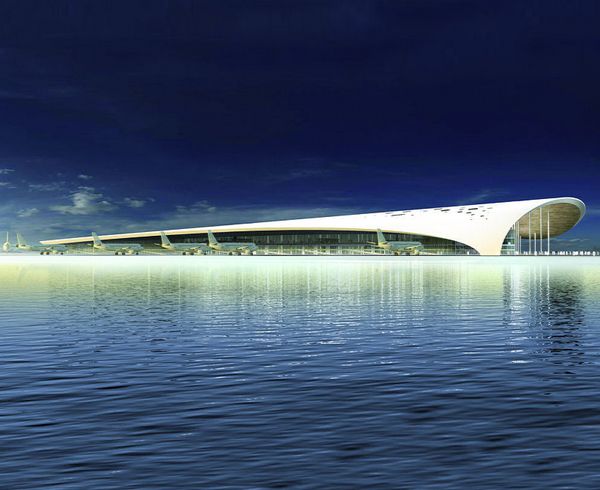 Imagine, landing from an aircraft and straightaway entering into a huge ship. Does that seem to be a scene right from film fantasy? If yes, then you will be glad to know that it is true. The Male Airport at Maldives has been designed to look like a huge ship, standing majestically at the sea shore. ADPI has made this unique and statuesque airport recently. While the architecture of the airport is unsurpassed in its beauty, the architecture firm has not compromised on its international standards in terms of its sustainability, economic growth, safety, expandability and customer services.
ADPI personnel were quoted as saying the design like that of a huge vessel. The apertures in the roof of airport gives the impression of archipelago from a distance. The inner side of the roof will be covered by bamboo sticks, making it an eco friendly construction. The airport will also be conferred the prestigious LEED Silver certification and will use many other strategies to reduce its impact on environment like site integration, energy management, water management, etc. Another example of sustainable development is sea water air conditioning system that will use cold sea water for cooling. It will not be energy intensive like regular central refrigeration systems and will help substantially in reducing the power costs.
Various parts of the airport are built in such a way that they do not demand much maintenance and run smoothly. The taxiways and other parking have been built in such a way that they will not affect the environment adversely, particularly the coral reefs.
ADPI, a huge architecture and engineering firm established in 2000, basically designs and develops airports and other major infrastructure across the world. The firm is known for its comprehensive planning skills, unique architectural designs, deft engineering services as well as project management and on site supervision services offered for airports and other huge public facilities.