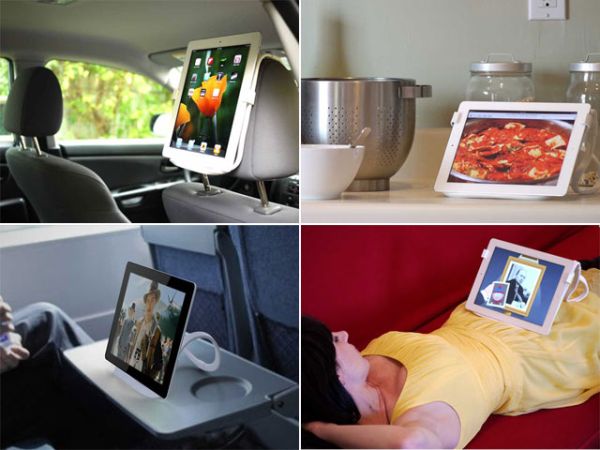 Consumers having fine-spun and exquisite devices would probably not mind adding a sense of unprecedented flexibility to their advanced gizmos. Be it snoozing on that favorite couch, indulging in gripping flicks, or listening to euphonious tunes, the new solution helps one to do everything with utmost convenience. The newly unleashed Infinite Loop stand for Apple iPad has been designed to enable users to use the coveted device virtually anywhere, and at any angle.
Carved with elegance for those with a taste for sophistication, this tablet stand talks big about its unique patented metal and plastic molding and features the ability to be formed into any shape as per the user's requirements. The sturdy yet stylish Infinite loop comes equipped with a four-foot-long plastic coated wire. Apart from this, the accessory incorporates suction caps and adjustable side clips for additional versatility.
With this loop, users can now effortlessly place their iPad while executing other activities. Concurrently, for smartphones, there's an interesting, smaller Mini Loop which attaches to the mobile device's back panel through suction cup. The two foot long peripheral not only embeds the capability to prop one's phone up in the car but also boasts of its natty appearance.
Designed by Tim Gushue, the attractive Infinite Loop has compatibility with almost every tablet. Since it has been designed as a modular system, users can connect more than one loop together for new different usage purposes. Furthermore, the stand can be surprisingly rolled up into a compact, transportable circle. By taking advantage of such elasticity, users can unwrap and use it for diversified needs.
As of now, the brain behind this unique solution, Tim Gushue, is asking for $27,500 to fund the project. Donations over $19 will act as pre-orders for this trendy and useful MiniLoop.
Via: Gizmodo