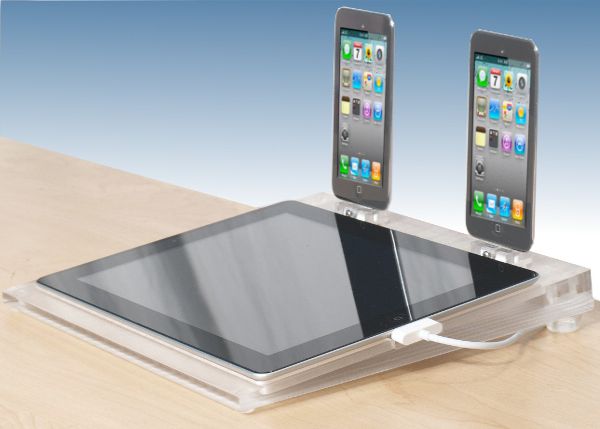 Apple products have taken the world by storm, and there seems to be no stopping. The sleek gadgets make people fall for them in no time and are definitely infectious. Once you have bought an Apple product, there is no looking back then. Be it a Macbook, iPod, iPhone and now the iPad, the trend is unstoppable. Owning a handful of gadgets can always lead to added confusions and misplacing them comes along. Here, to keep your Apple gadgets always in front of your eyes is iPad2 Display Dock.
The dock bears a strong resemblance with the ones found in Apple stores. It has been given a transparent facade to blend with all kinds of interiors. The iPad2 Display Dock has been crafted from custom-milled, see-through acrylic and hand-polished for an eye-appealing appearance. It has been provided with a slot, which will be used to charge the gadget resting gracefully on the dock.
Well, if you have additional Apple devices then the dock won't let you down. It has been wedged with two additional slots that will simultaneously hold your iPod and iPhone. Priced at $74.95, the dock with a tilt for an optimum viewing angle is quite a steal. There is an option to pick one that doesn't have additional ports. This will be a little cheaper and cost you $69.95. So, dock your gadgets in style with the iPad2 Display Dock and never misplace them.
Via: Ubergizmo