Iris Van Herpen, a young and dynamic architect-turned designer uncovered her new line of technology-driven outfits in a fashion week at Paris. This Dutch designer has shown her collection of couture built on cutting-edge fabrications during haute fashion week in 2011. Without any doubt, fashion designer is known for her herald of 3D-printed haute collection. In addition to this, Iris Van Herpen has worked on theater similar to that of technology. After being long in the industry, fashion designer is on airstrips to fifth year maintaining the same finesse for drama as in previous shows. At Paris Couture Week held on Monday, Iris Van Herpen came up with her 2013 Spring Collection titled as "Voltage" with a slim and tall model dressed-up in metallic bodysuit leaning atop Tesla coil to highlight features of purple energy gusseted from limbs. This line was focusing on the velocity and power of female body.
And, The Countdown Began
After ghostly depiction of few minutes, the show was on its crown when Iris Van Herpen uncovered her eleven new outfits designed and fabricated with the use of evolving digital technology comprising a gown fabricated from laser sintering and two 3D-printed dresses. Iris Van Herpen mentioned in a statement that her work exploits ne technology and is inspired by abstract ideas. Dutch designer also believes that it is greatly affected by the era when clothed designed today will be imprinted with 3D printing. Major attraction of Voltage theme by Iris Van Herpen is skirt-and-cape combo in line with number of small white anemone like nodules.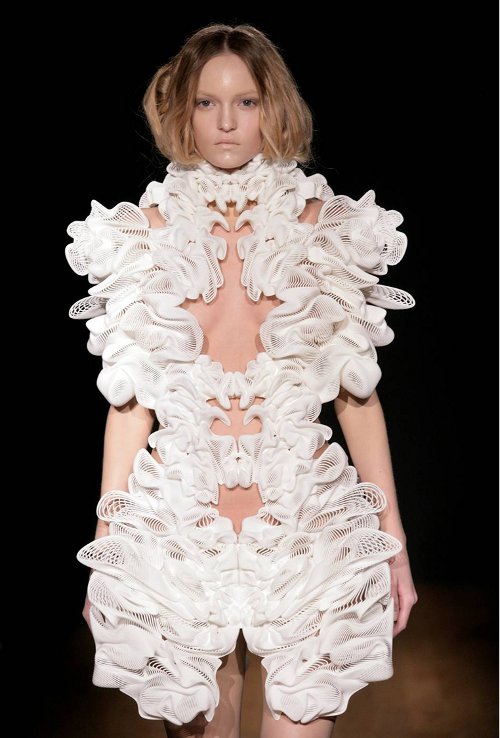 Neri Oxman, Lab professor at MIT Media also designed this dress together with Iris Van Herpen whereas popular 3D-printing company Stratasys fabricated it. What is remarkable about this line of 3D-printed outfits is that it has been printed on Object Connex, which is new array of printer paying ways for single model for integrating different materials. This is the leading cause why these dressed are soft and supple embellished with section that look as if skeleton structure. According to Iris Herpen, this ability to differ softness and flexibility inspired designer to produce "second skin" to cover body and act as armor-in-motion.
What's More
Some more models in bulk wearing tightly curved bashes sported remaining looks of theme "Voltage". Furthermore, explicitly designed gown adorned with transparent grass blades add element to this theme. Second collaboration with Belgian Brand Materialize and Julia Koerner, an Australian architect produced cocktail dress of transparent black shade is designed with the use of laser sintering and advanced fabrication technologies. In general, the fabrication technique used for designing 3D-printed dresses exploit laser for fusing particles of resin and plastic. This dress appears that it is an upshot of vey adroit hand art made by fusing threads in bead of sintering machine. Stephen Jones has designed hats whereas United Nude of Rem Koolhaas owns the credit of elite shoe line. 3D printed dresses are made at Materialize with same attention and care as designer aspires to give.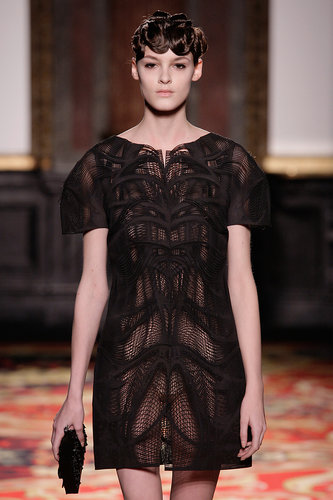 In recent years, 3D printing has grown ubiquitous that is probably the innovation of Van Herpen's forays into 3D printed couture will diminish. However, it seems that fashion designer aim to drive profoundly into the era of upcoming digital fabrication to implement her technical approach together with wild creative outlook. It feels overwhelming to see Iris Van Herpen refusing to relax on laurels. Complete line of Herpen's 3D printing outfits is meant to make your body livelier in a natural way. This reveals an addiction to persistently escaping reality with the use of digital entertainment. Thus has now evolved as a significant part of life and can be a decisive segment to create something beautiful.