Apple to Launch Slimmer iPad 5 for Design Freaks
With the New Year 2013 arrival, the buzz about new apple products is also taking a high place among the brand lovers. The latest is the specifications and features about the iPad 5. Said to be designed on the lines of current iPad mini, this new device by apple is expected to be launched in October.
Expected Specifications:- iPad 4 was launched three months back with 9.7" screen, so rumours about new iPad are obvious.As per the new claims made by Apple news site iLounge editor, Jeremy Horwitz the new generation iPad would be much more slim and smaller without compromising on its features. It is said that the new design would be big enough for providing space for camera and home button on the top and down side of the screen, respectively. The iPad5 will have chamfered edges and minimum bezels.
Considering the smaller and slimmer design for iPad5, no wonder that apple would have to re-work on the interior specifications of this expected to be beautiful iPad. However, experts are also saying that this feature might create a problem in making iPad handy, as it is not possible to hold a 9.7" iPad without supporting from front sides. But one thing is sure, if iPad5 is going to be slimmer than the current version, this may become a device more portable.
It is also expected that the new iPad might have an addition of IGZO display from Sharp. This feature offers better brightness also, its uses low power and its chemical composition is such, which has a great role in yielding greater display with more brightness and sharpness. Currently, IGZO is produced by Sharp only and which has already been used in a number of iPads.
The USP : – As mentioned above, the smaller and thinner shape of the fifth generation iPad along with the big screen and light weight would be the unique selling points. Also apple would leave no stone unturned in making this new iPad with the same processing capabilities as of the current iPad.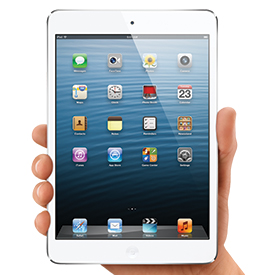 It is also emphasised by 9to 5 Mac that this new generation iPad would also have comparatively better storage capacity, which could go up to 128 GB. However, the new iPad will carry almost same feature as iPad mini. The site also claims that Apple will also make Wi-Fi, cellular versions along with the 10 packs for educational institutions.
Since the interior for iPad5 is to be redesigned, it needs whole new processing and components, therefore, delaying its launch from March this year to October. As far as price rumours of this iPad 5 are  concerned, it would be priced somewhere around $799.
Talking about next launch in the line of  iPhone, Horwitz claims that the new iPhone would be named iPhone5S and would have a bigger camera flash, however looks wise it would be much close to the current model. It might have an addition of 13 MP censor from Sony for better pictures.
The buzz is also that Apple will launch a cheaper version of iPhone 5 with a plastic case, which would target emerging markets for iPhone worldwide, where the current high cost of the phone is considered to be a major factor causing low sales. The next generation iPhone is expected to be named as iPhone5S and would make entry this year only.
These rumours of new product launches with better feature are coming amidst the times when Apple stock have slashed by 12 percent and the brand also had to lose its title of most valuable company of the world.
.