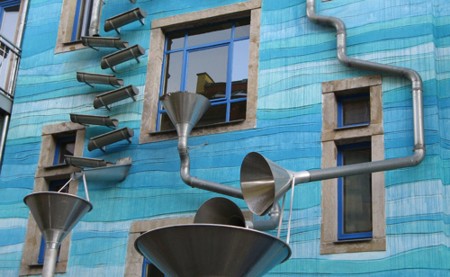 I bet you have never seen a building like this. The first impression that comes to our mind after seeing this work of art goes like this – Oh my God! Did they hire an alien to do the plumbing job?
Anyway, I can't put more light on the subject as I was a total alien to that non-English source site. The only thing I managed to grasp is that this building is somewhere in Dresden, Germany. The building looks like a gigantic version of a children's game. Or if you think in a different tone, it even looks like a giant pinball.

Its your mind and you are free to imagine the weirdest thing, but you just can't deny the fact that this building looks beautiful. I've never seen a building with a plumbing job as sexy as this one. Infact, the whole exterior of this building can be easily tagged as a distinguished work of art.
I dearly apologize if, by mistake, I've misinterpreted the story, but the whole concept was just too good to resist.
By the way, can anyone guess about the interiors?