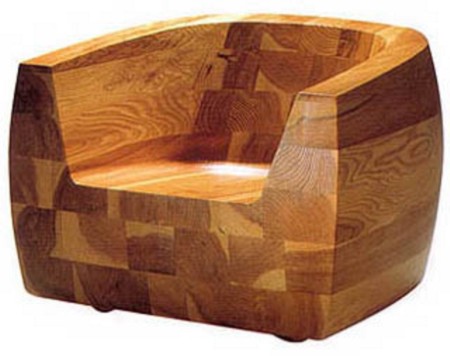 Very seldom do we find a design that makes its presence felt in such a grand way as this Kashiwado Chair. The Kashiwado Chair is a true specimen of modern art that has its roots firmly attached to the traditional art of woodcrafting.
Japenese designer Isamu Kenmochi designed this chair for Tendo Japan in 1961. The Kashiwado Chair gets its name from the famous Sumo wrestler of that time, Kashiwado, for whom the chair was originally created. The Kashiwado chair enjoys the status of being a part of the permanent collection of the modern collection of the Philadelphia Art Museum.
The creation of this fabulous work of art takes several weeks to complete. Several blocks of the bottom roots of a Japanese cedar are carefully selected by the craftsmen who look for best wood with most tree-rings. The blocks are then carved and stacked using a special process. Finally, the chair goes for polishing and coating.
The end result is a visual treat for your eyes. Any lover of contemporary art will vouch for the eternal beauty of this wooden delight.
The Kashiwado Chair is available at nova68 for $9,950.