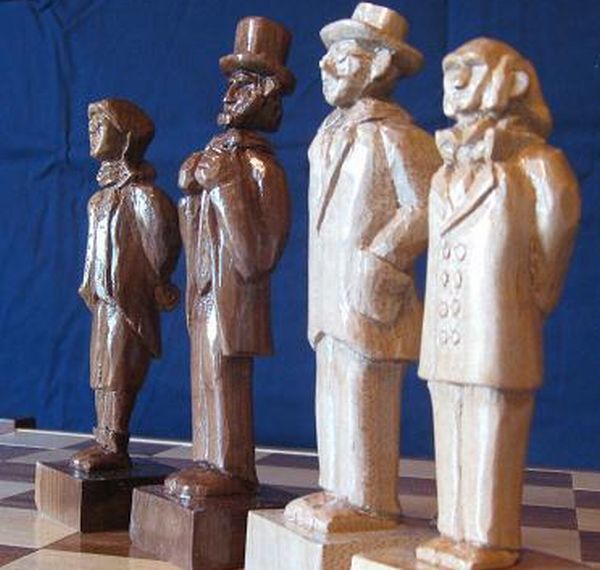 Having given the world, tribal-inspired masterpieces like the Face Jug Set, chess set artist Jim Arnold is back with yet another instant classic. Introducing the Presidential Chess Set- a piece so beautifully done, it may just be something a foreign dignitary could gift to the Obamas for Christmas. Hand carved from sturdy Maple and Walnut woods, the set features four US Presidents as the kings as well as queens-which frankly reeks of political satire (and feminist activism) all the way through.
The four US heads of state featured in the set are Thomas Jefferson, Franklin Delano Roosevelt , John Quincy Addams, and Abraham Lincoln, although the artist assures us that buyers placing an order for the set will be free to choose presidents of their own choice as the kings and queens.
For the rest of the pieces, there are other remarkable symbols of American national pride in the game, including the Washington Monument that stands in as the bishops, the White House holding fort as the rooks, and a 3D version of the US serving as the pawns. The symbolism in the set is presented in a way even more amusing with the knights that are made in the shape of elephants and donkeys. Now that's what you can call political satire. Take that Animal Farm!
The chess board, also made from Maple and Walnut, measures roughly 25 square cms with the tallest pieces, the kings, standing in at 6" and the smallest, the pawns, standing at 3" tall. At $650 only, the chess set is an awesome buy for anyone who enjoys chess or follows American politics!
Via: gva24