Did you know that humans are using boats since antiquity?  In recent times, with the advent of motorboats and their likes, boats aren't as eco-friendly as they once were. However, there are some designers who are hell-bent on making water transportation as eco-friendly as it once was.  Unlike other forms of transportation, in this, creating something eco-friendly isn't that difficult. You are free from wheels and all the complication that they entail. Not only you have paddles, but you can also use solar and wind energy freely to power your boat. Solar Cum Human Powered Concept Boat by Jonathan Mahieddine is one such boat that is making the headlines.
Solar Cum Human Powered Concept Boat
French designer Jonathan Mahieddine has designed the Solar and Human Powered Concept Boat, which isn't just a work of art but sheer brilliance. The designer has already developed defined concept boats and this new concept is going to be pretty luxurious too, because of the comfort the boat will offer, wherein you can relax with your family and friends, and you can even take a sun bath, isn't it great. The eco friendly boat is powered by pedal instead of engines. Well that shows bit of exercise too and good health as well. Mahieddine conceptualized the project in high school, but it is not a concept anymore as the designer has further developed the project with the Numero Design agency. As a whole Mahieddine's Solar Cum Human Powered Concept Boat is going to charge right compensation for right comfort, one is going to get.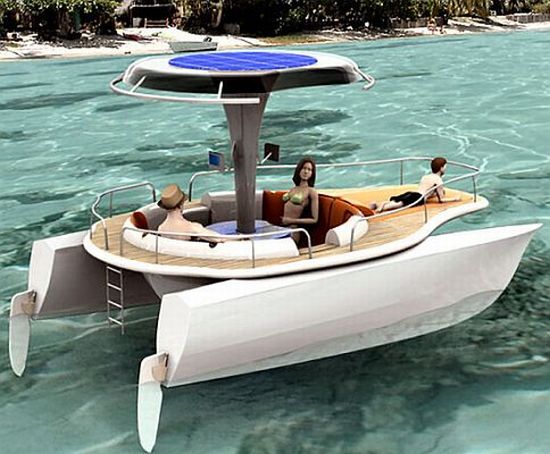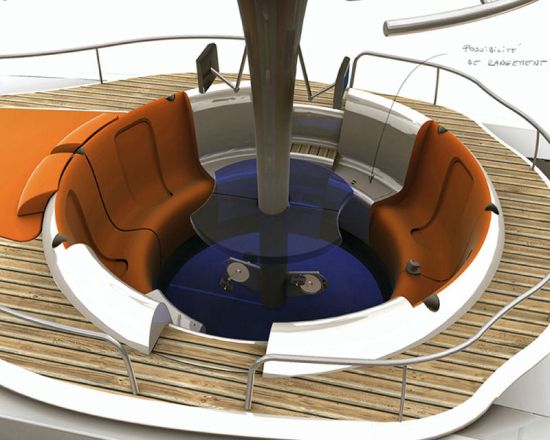 Bornrich via Interiordesignroom
Some Other Similar Concept Boats
Here are some other similar concepts boats that are making boating safer and more eco-friendly practice than it already is.
1. Natural Gas Boat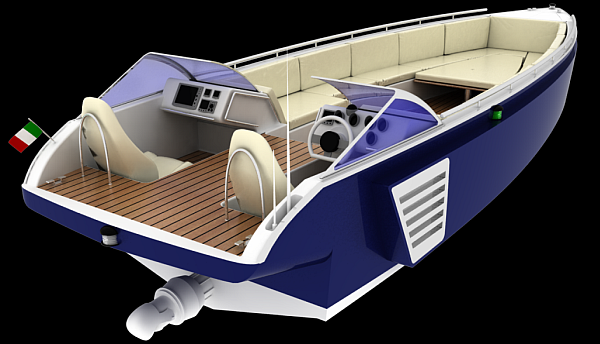 Boats can carry us till an ideal destination, if we are looking for some recreation. All you have to do is, just get into one and explore the water loaded areas. Go fishing or simply cut yourself from the hustle bustle of the city life. But these boats, operated by motor, pollute the environment with harmful emissions. To make sure that our surroundings remain pollution free, Michele Stefano has designed the Natural Gas Boat.
The boat, fitted with CNG cylinders, measures 8.8 meter in length and has been crafted from carbon fiber. It can touch a top speed of 45 knots and can pump a power of 350hp. A total of 14 people can sit in it and explore the lengths of water or go from one end to the other. The intention behind this concept was to develop a boat that will gulp natural gas. In comparison to petrol, it produces less carbon dioxide and being lighter diffuses quickly.
It also has a very high auto-ignition temperature, which scrubs out the fear of self-ignition if a surface is hot. Because of its high ignition temperature, CNG does not require any elaborate storage steps. This cuts down the expenses further, as cryogenic tanks and cooling process don't consume much money.
Natural Gas Boat comes loaded with speed and impressive features. So, if you are an environment lover the boat will definitely leave you overwhelmed.
2. All recyclable Front Runner concept boat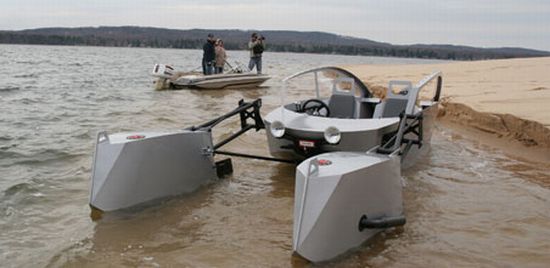 There's nothing like cruising over the waters in a personal watercraft. If you're frequent with rides on water you'll know what I mean. To add to the great thrill, Jruiter studio has developed an eco-friendly concept boat, the Front-Runner. This full-size hydrofoil watercraft is made with twin forward-mounted jet-drive motors. The boat itself is 11 feet long. It is more aircraft-like with a similar steering system to allow an identical feel and control on water.
The boat is made of all-aluminum frame and skin, and entirely recyclable. It draws ultimate power to pierce through inaccessible waters from two 215 horsepower motors within. Featuring a retractable top and ample space for storing gear, the interior is decked with ergonomic crew chairs. The concept is really exciting and it's easy to guess that the design isn't far from reality. Hit the jump for more images.
3. Portable vessel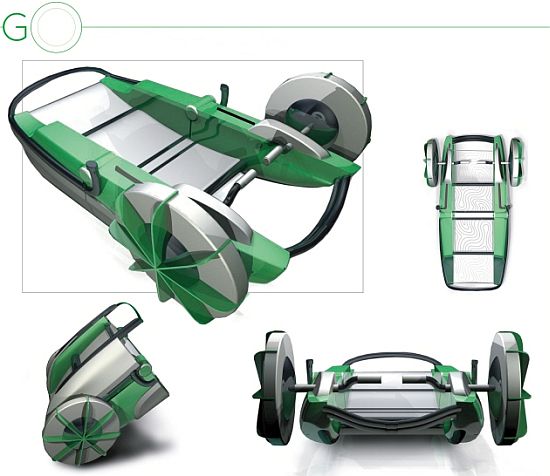 Boating or water transportation may look easy and frivolous from the distance, but it requires a lot of preparations and efforts to arrange a good water outing. However, 'Go Boat' by John Fenno is a portable and versatile boat design that allows the user to customize his or her recreational boating experience. Apart from its compatibility (by over 50 percent), the Go Boat also allow the users to paddle either with arms or legs in a circular motion. Featuring an adjustable backrest with built in dry storage, sliding fabric panels to adjust position and function, the Go boat is as flexible as to be expanded to adjust two people.
4. The futuristic boat by Reginald Hingston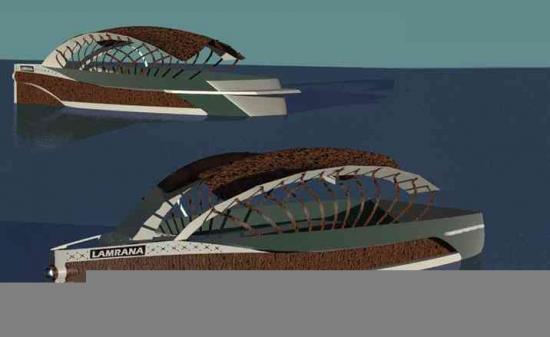 Creativity plus utility can do wonders! Some fourteen graduates of the Royal College of Art made a mark in the design world by competing for the 2008 Pilkington Automotive Vehicle Design award. Their designs were not only innovative but also eco-friendly. Reginald Hingston designed a boat which is futuristic in nature and also comes with a strong social message: Fight Global warming! The boat is a product of local engineering, materials and skill in order to develop a transport solution to link 13 West African coastal cities. Now, this is what I call hard-hitting!
5. 3D Plywood Boat by Max Koriath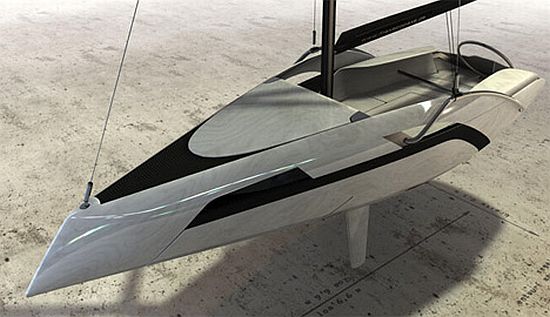 Back in the old days of sailing, boats had only bio-degradable materials like wood and bamboo. This means that they weathered easily and were more prone to wear and tear on long voyages. However, on the whole, they were very environment-friendly. These days, on the contrary, boats constitute mostly of more sturdy stuff like high-end woods, fiberglass, epoxy chemicals and a gazillion. They also contain other non-sustainable materials which lend the water vehicles a hell lot of durability, but unfortunately, pollute the seas irreparably.
To counter these ills, designer Max Koriath has come up with an interesting way.  He is making boat-building process a hell lot eco-friendly and much more cheaper. His latest venture, the 3D Plywood Boat, utilizes easily available plywood parts to construct boats. Max simply coats them over with a beech wood veneer to add luster and durability to the boat. It does this without adding too much to the construction cost or burdening precious non-sustainable supplies. Since plywood inevitably tends to be less prone to warping and shrinkage, it only makes sense to use it in place of woods.
6. Submersible Boat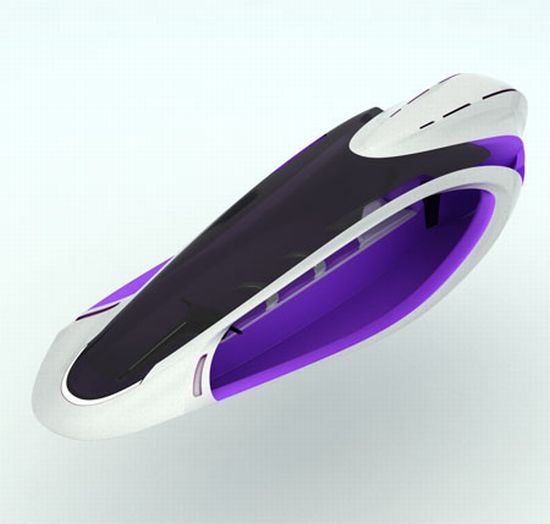 Extreme thrill and sheer luxury are two words that often don't go hand in hand. Adventure, is thus, often associated with hardships or discomfort. How would you feel if I introduce you to something that will not only fulfill your craving for adventure but will do so without compromising on the comfort factor? The Ammonoq is a revolutionary submersible boat that will take the sailors to the deep bottoms of oceans in the comfort of a luxury liner.
Powered by fin wheels that allows a steady pace, about 60km/h on water and evidently much slower underwater, the submersible boat is fully armed with all essential equipments necessary to survive underwater. It will accommodate three passengers and will offer a clean and comfortable breathing space with an on-board re-breather. The GPS sensor will provide the exact location and redirect the rout of the boat.