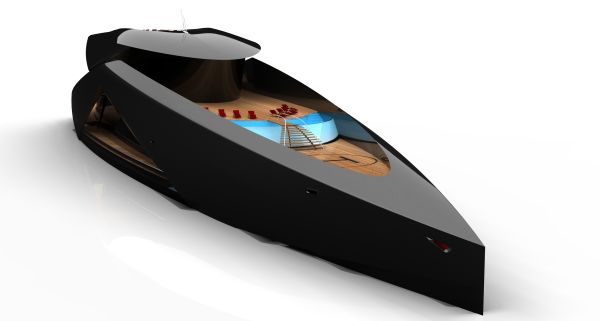 With an aim to hook up people with the sea again, shunning all industrial norms and mindsets, designer Tristan Hipps has come up with a superyacht dubbed the "Ladislaus" that is outstanding both in terms of style and performance. Taking advantage of an axe bow from which elongated arching curves extent aft forming a strong "shoulder line" providing solitude and shelter from the airstream exclusively designed for the owner's private desk.

With an incessant picturesque sight and an infinity pool at its disposal is the sun deck, apt for sensing what a swim in the sea will be like. Overlooking the magnanimous desk with a helo deck, infinity pool and catwalk is the master stateroom. The yacht is 95 meters in length with a beam and draft of 16 and 4.5 meters respectively. With 3150 gross tons and 3 x 9,500 hp (6,800 KW) hydrogen fuel cell engines, it sure is power packed. Attaining a maximum speed of 25 knots, it can accommodate 18 guests and 11 crew members.

Enhancing the experience is the freedom to walk around the stairs and walkways running all over the outside. Rock-hard poly carbonate windows rise up to two levels over the stern highlighting the magnitude. Staircases run from the stern up till the staterooms private deck, making every part accessible. The low-level see-through outer walls of the stateroom are divulged by outsized open areas. To quote the designer,
I have become captivated by freedom yacht design offers. I don't feel constrained by seemingly ever changing regulations and safety features of the automotive world. I live by they saying "those who say they can, and those who say they can't are both right."
I have tried to eliminate what I refer to as the layered design formula by seamlessly blending multiple levels of the yacht creating a single graphic. This gives more of a cohesive/ dramatic feel.
[Thanks Tristan]