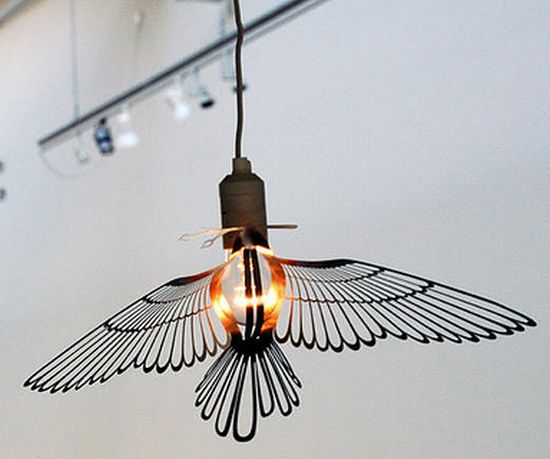 Lighting up your home is one of the most difficult tasks when it comes to decorating. It is difficult not only to find the right kind of lamps & lights, but also there is this additional job of taking care of both the power bills and also the shade of lighting. A change in lighting can give a new look to your home without actually moving around any of the stuff already present. With a simple change in the lighting one can vary the look of a room from being bright and party-ready to being stylish and tranquil.
Here is a nice little accessory to make sure that you wings to your ideas of lighting. Bird light is a hanging accessory that allows you to place a bulb in it and it gives a new look to that dreary lone bulb hanging out from you ceiling. While in might look a bit ungainly at times, when put in the right fashion, it can look very classy.
Bird light is a metal frame that is designed in the shape of a flying bird & offers an excellent and simple way to hide the bulb, but not the light. You can also use it as a bed lamp I suppose, if you prepared to alter it just a little. It need not always hang from something but then again one might have to just do his own arrangements to make sure it fits in.
It is a simple addition to your home and pretends to be nothing else. If you have a bulb to over up somewhere, then you might just be tempted to try this.