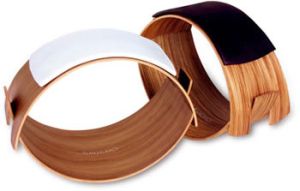 I have heard about plenty of chairs by now — banana chairs, chairs that accompany coffee tables, but not any of this kind. This is probably the first time I came across a chair named Gaucho. Here's more on the chair and it's features.
The unique almost circular-shaped chair is mostly meant for places like clubs, lobbies as well as private living rooms. The chair is dynamically shaped and looks great. The chair helps you sit in an upright, suspended and a healthy position.

I wonder how you can sit straight in a chair shaped like an arch. Priced at 465 pounds these chairs are a great addition to your home decor. The wooden arches can be joined separately in order to form th right sitting arrangement. Next time you go out looking for chairs, you should think about investing in a pair of Gaucho chairs.
Image: Cocolico