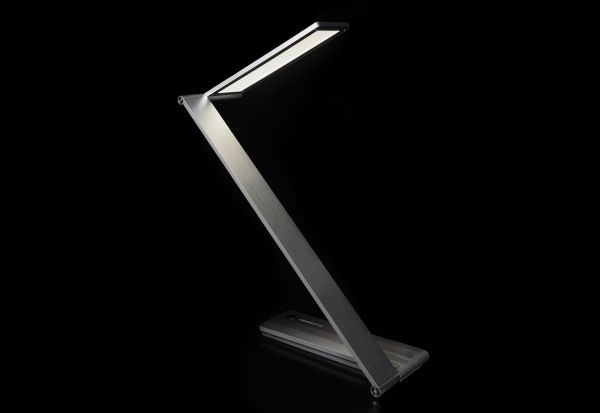 Jazz up your surroundings with a trendy yet space saving illumination option. Qidesign, a Taiwan based company, has designed the BE light that will instantly liven up your dwellings. As a child we learned the art of paper folding at school, the company used the same in their design which resulted in a stylish lamp outline.
The collapsible lighting option will be a delight to own. It reinvents the whole concept of desk lamp designing with its utility and elegance. One can easily snap it apart in a 2D form, thanks to the placement of hinges. The lamp is energy saving and has been wedged with LED lights that will lend warmth. BE light is a space saving option as well. When not being used, simply fold it down flat and keep it out of sight. It will then measure just 1.8cm and will swap into an item with minimal looks.
The arms of the product can be easily adjusted as per your convenience. The counterweight designing helps it stay in a rigid position even when the supple arms are fiddled with. The lighting option has been skillfully crafted from aluminum alloy, which injects the quality of being lightweight, yet brawny. Glare from lamps/lights tend to be very annoying and pierces our eyes. But, the company has worked on the principles of light guide technology which will not only subtract glare but will also distribute light uniformly.
Position the lamp on your work desk or reading desk and make the area more attractive. BE Light will make reading/studying time fun and ensure every word you read is brightened up.
Via: Designboom