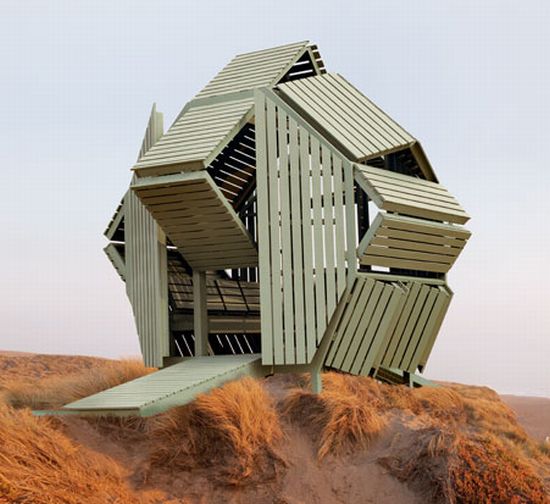 Convertible objects are no longer a big deal in the design world. But the idea of a convertible workplace or structure could be whimsical and some may even rubbish such thoughts. Michael Jantzen's M-Velope, could be a fantasy-movie inspired concept. The transformable structure stands 15′ high, 14′ wide, and 17′ deep and features hinged wooden panels, fixed on steel frame. The design owes its durability and strength to Accoya wood and the panels are flexible enough to let you assemble a space for yourself, be it for anything.



Design Status:
The designer is selling his structures from the desk of Neiman Marcus for a price of $100,000. This concept will realize only 10 such units, making it highly coveted and not-so-easily witnessed.
Usefulness:
Assembling a structure affording enough space for oneself is definitely a revolutionary concept. The nature of wood used in the construction connotes longevity and durability, which means you are going to pay for a top-notch concept.
About the Designer:
Michael Jantzen is an ace-designer and has been rolling his design mills since 1971 and the output has been revolutionary functional designs.
Via: NeimanMarcus