Analog clock systems have been there for a long time now and have even fared better than their digital counterparts, both in terms of using visuals and sound to relax the human mind. Digital is all about accuracy to update the users without the hassles of observing how time changes. Wouldn't it have been better if we could see the time change in slow perceivable motion coupled with the sound effect while maintaining the digital precision?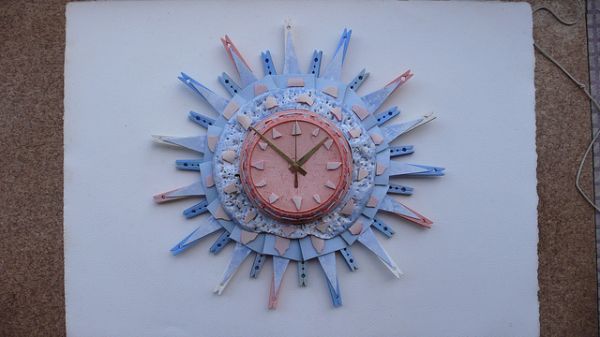 PEG Clock is like a small treasure chest with color dots flashing on top among the grooves etched upon it. The designers propose to make it from wood and, to keep them interested, the testing has been successful too. The final model will have integrated Bluetooth to synchronize its data with your phone Bluetooth so that it can update its current time. Keeping pace with the current, compact all-in-one system, speakers present on either side of the device provide clear sound output. To play the songs or update your current time, a click on Bluetooth button in the front segment is enough. Now whatever you play on your cell phone via Bluetooth, the PEG clock will be playing it for you.
To reset the clock, just close the lid. Isn't that simple! To reveal the current time, you can open the lid like a box. The beautiful concept utilizes the traditional analog system and the digital system to create one of the most technologically upgraded gadgets. Created with a futuristic look, the clock can serve as a perfect home décor and gadget at the same time.
The main aim of the clock is to create a relaxed, peaceful sensation. The white and blue combination has thus been wisely chosen as colors of pure bliss. Rejuvenate your senses by PEG clock's sublime beauty while it plays your favorite tune.