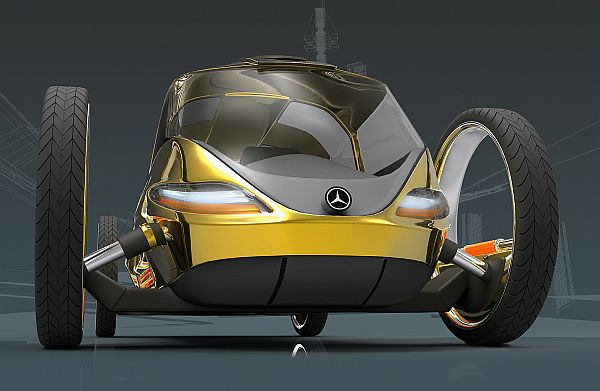 Technology gets an overhaul almost every single day. But with escalating population and resource consumption comes a responsibility to create things which will save the environment from further damage. With a dearth of innovative cars in Iran, Mohammad Ghezel, an MA student of Industrial Design has come up with a car that will boost Iran's rising in terms of development. Matching up to the modernity that today's societies come packed with, this CG artist and a Virtual Studio Designer working for the TV News channel PressTV came up with the Mercedes Benz ELA 2011 (MGDS).

This ultramodern vehicle is energized by electrical energy and solar cells, a much sensible from of energy. Shape of the Modern Michelin Wheels and Tires with indicator lights on the wheels to alert cars around defines it magnificence further. With a clean facade and electric engines fitted in its wheel, ELA can be used for a variety of purposes like a family car, a cab or for that matter, even by people who need added security.
An answer to all the issues, this low fuel consumption ELA will act as a savior. Fitted with four comfortable seats and an option to turn the middle seat the conference way makes ELA wanted. To provide added comfort, the doors open like the wings of a butterfly for easy entry and exit. Well, my worries to keep the environment safe and enjoy a good spin even after ten years have ended, hope ELA did the same for you too.