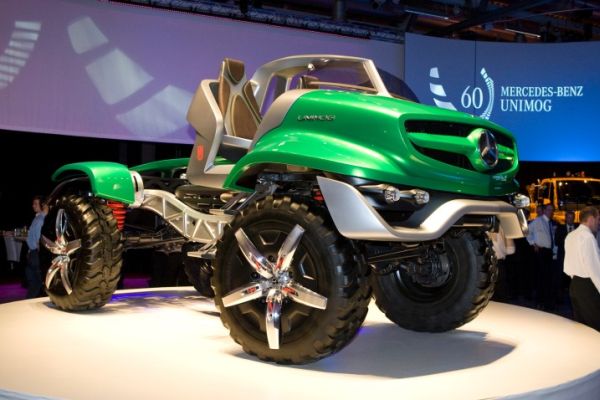 Many of us may not know this, but there is a dedicated section of trucks produced commercially by Mercedes Benz (which itself is a division of the Daimler AG) since the era of post second world war. Branded under the name Unimog (acronym for German "UNIversal-MOtor-Gerät"), these robust trucks are well known for their off-road capabilities, and, hence, can be found in number of different terrains like jungles, mountains and even deserts where their uses range from being military transports, fire fighting to even Dakar Rallies. But now to celebrate the 60 years of this brand's existence, Mercedes Benz has rather managed to contrive a new look Unimog with an adamantly 'futuristic' demeanor.

This new concept is the fruit of the collaboration of Mercedes Benz Special Trucks (MBS) and Daimler Commercial Vehicles. Certainly a far cry from all those previous installments of rugged fashion, this time the glossy framework is based on an Unimog U5000E chassis. The curvaceous lines of the gargantuan form and the green paint job are quite striking especially in sync with those conspicuously red suspension mechanisms. The starfish shaped rims are also pronounced, almost bordering on being severely ostentatious.
So all in all, the newest iteration of the Unimog is certainly different from its predecessors, at least as far as visual aesthetics is concerned. Now it's only up to the customers to react to this exclusive dynamic look. As far as we are concerned, the designers could have accentuated a little bit of its brawny bearing, thus may be in the process preserving some of the true Unimog essence.
Source: AutoBlog