Keeping in mind the requirements for the Backpackers Competition in Barcelona, stated to be held later in the year, AIE architects have designed a hostel, based on eco friendly concepts and the lifestyle of most bohemian style backpackers.
Considering that this demanded close proximity with nature, this tower offers a panoramic view of the city of Barcelona, and the option of enjoying and encountering nature at its closest quarters. Since backpackers are known for their bohemian lifestyle and various nature centered activities, this 100 meter tall building offers multi-level gardens on the different floors, with hiking opportunities for those addicted to mountaineering and wildlife based sports. Built near the centre of the city, this hostel has facilities for a full-fledged bar, designer boutique, and open public spaces, where one could organize their camps and indulge in outdoor activities of choice.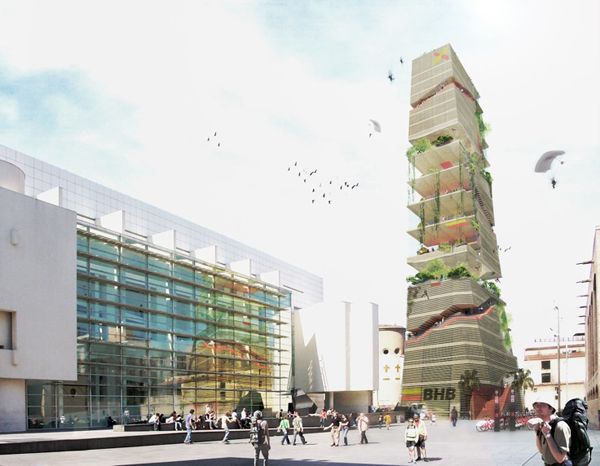 This urbane and bustling city offers low-cost housing and hence stands in mentionable contrast to the high-end accommodation that prevails elsewhere. This project is going to boost the city's tourism and prove to be a relief for the low budgeted traveler with limited cash to spare. The project, called Bohemian Hostel Barcelona (BHB), looks forward to re-establishing and creating a distinct identity within the Spanish capital. Incidentally, the architectural skyline of BHB does not feature civil architecture which can also provide similar appeal. The youthful & transparent appearance, with the ununiform overall structure, acts as an extension to the city's presence instead of simply being another piece of vertical architecture.
Personally, I have never been a nomad or an ardent nature lover. However, the architectural beauty of this building enthuses me to visit the Spanish capital. One can bet that all nature loving bohemians feel this way and love to experience its beauty and feel the unique thrill that can only spring from nature.
Via: Evolo