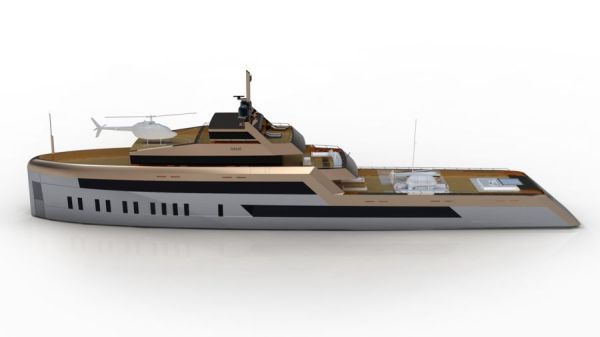 If you have money to spare, then owning a luxury yacht is something you can't miss. For all those who love the deep blue oceans, a 60-meter (197 feet) Sentori Yacht has been designed. A true call of luxury, Sentori will house all the amenities and will come caked with sumptuousness.
It has been crafted in a way which leaves back a lot of space. There is ample space for parking a car/SUV, which can be used once the yacht touches the shore. The spacious deck can be used by helicopters, jet skis, sailing dingys and tenders. A Jacuzzi can be installed at the back of the deck and one can enjoy the weather from there as well.

If you like sunbathing and swimming, then all you have to do is anchor up the vessel and open the rear door. This will give birth to a platform, which will rest inches above the water surface. It also has a spa area, pool plus steam and sauna room to get pampered. Sentori has a high bow, which ensures added protection when the sea gets rough and high waves rule it. A high bow is also a sign of luxury and the yacht has managed to exploit it well.
The interiors are as lavish as the exteriors. It lends an uninterrupted view of 270 degrees and will help travelers' on board dive into the tranquility of the water body. The lounge area is equally impressive with a royal fireplace positioned in front of a c-shaped sofa, which will help soothe those frazzled nerves. It has six cabins for the guests and six for the crew. The yacht will be powered by a pair of diesel electric engine, which will pump a horsepower of 2000hp. It comes with a capability to touch a top speed of 14 knot and has an 8,000 nautical miles range.
Well, if you think that luxury means harming the environment, then read ahead. Sentori open water yacht has a bilge water separator, a system to collect rainwater, solar panels and generators that are powered by wind. Sentori is a true picture of sophistication and will make exploring the sea a fun task.
Via: Diseno-art