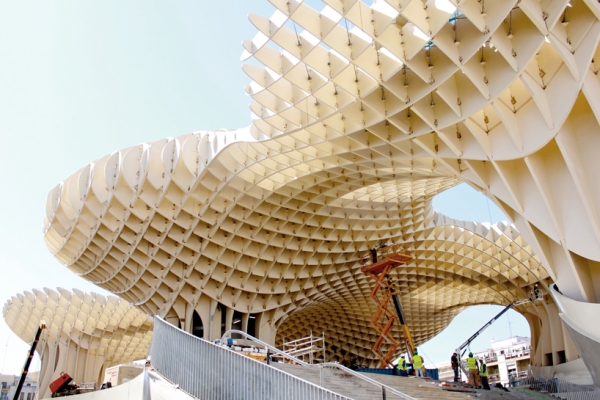 A zigzag structure with a contemporary feel is what comes to mind when you first glance across the Metrapol Parasol. It is undoubtedly stunning. Last week, workers jumbled to finish the project and polish off all the scaffolding for the official launch on March 27. The building is actually a device for reviving the Plaza de la Encarnacíon, that was used as a parking lot since many years. The magnificent structure consists of a market, some shops and a podium for events and concerts. The topmost part of the building has a rooftop restaurant, gallery for viewing and a rippling walkway similar to a roller-coaster pedestrian.
Contributing to a fresh outlook on artistic designs, J Mayer H Architects took up this project as a redevelopment of the Plaza de la Encarnacion in Seville, Spain. Jurgen Mayer H, is an upcoming Berlin-based architect. His eyecatching designs have garnered him the approval of MoMA, which owns many of his models and designs.
J. Mayer H. Architects commented on their ambitious project:
Realized as one of the largest and most innovative bonded timber-constructions with a polyurethane coating, the parasols grow out of the archaeological excavation site into a contemporary landmark, defining a unique relationship between the historical and the contemporary city.
With such innovative designs, the urban scenario is bound to witness tremendous change in the ancient city.
Source: Designboom