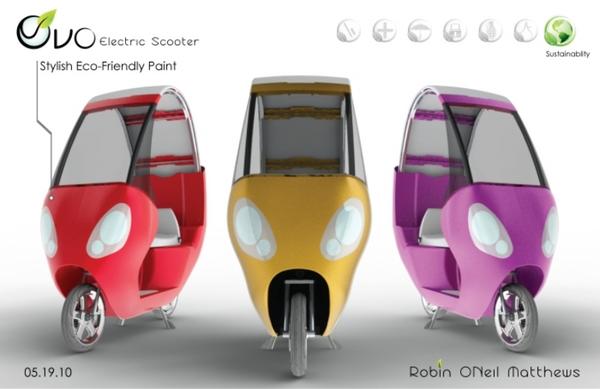 The concept:
The Ovo Electric Scooter is a single seater and eco-friendly electric scooter, which can make driving easier and enjoyable. This electric scooter has many useful features that offer maximum comfort to the driver. For example, it has a retractable canopy made from fabric, which can be used to protect the rider from rain and sunlight. There are two luggage compartments in this small electric scooter, which can be used to store a briefcase, lunch or carry bag, etc.
What makes it stand out?
The most interesting feature of the Ovo Electric Scooter is a dual-function canopy, which works as a weather protection shield during bad weather, or as an outer cover for the back storage area when it is disengaged. This electric scooter has a specially designed seat to facilitate an easy ride and a high performance hub motor. There are two luggage compartments in the Ovo Electric Scooter – one under the seat and the other at the back.
The scooter has dual charging options. If there is no electrical source for recharging this electrical scooter, you can use the booster battery, which you can carry in your luggage. There are two internal lithium-ion battery packs, which can be electrically charged daily, for a range of 60km. This electric scooter has a windshield made from recycled polycarbonate, which gives the driver a clear view of the road.

Where do we go from here?
Electric vehicles are far better than the gas powered scooters, as they do not need much maintenance as compared to the gas ones. Plus, you are also reducing the consumption of fossil fuels. The Ovo Electric Scooter is made of good, sturdy and eco-friendly materials, which will reduce pollution and make life easier. Also, unlike other scooters, it provides the user with much needed protection from the elements. When compared to our present-day gas guzzling scooters, the Ovo definitely comes out on top.
About the designer:
Robin O'Neil Matthews from Montreal, Canada, designed the Ovo: Electric Scooter. He is an Industrial Design Technician from Dawson College. He is famous for being the winner of the ADIQ Honorable Mention Award for 3rd Year Thesis Project 2010.
Related trends:
Daimler Smart Electric Scooters and BMW Mini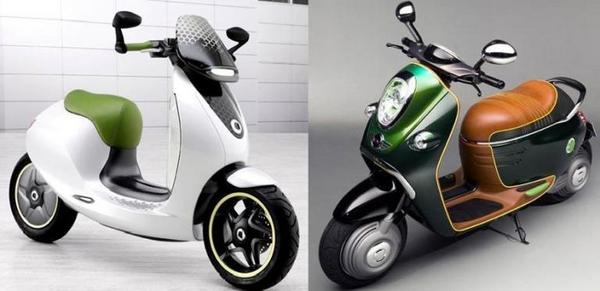 The Daimler Smart E-scooter has a unique style, so it is different from other electric scooters. This electric scooter has many safety features like LED lights to see clearly in the dark and antilock brakes to stop the electric scooter in an instant. It also has an airbag to offer complete safety for the driver. This single seated electric scooter has a 4-kilowatt (5.5-horsepower) motor, which gives the scooter a speed of 45 kilometers an hour (28mph). The motor is located in the rear wheel. The Daimler Smart E-scooter can run up to 100 kilometers on a single charge.
The BMW Mini is a two-seater electric scooter, which has a multicolored body and an unique design. This electric scooter has a big round headlight and two small indicators in the front. The BMW Mini is designed to offer maximum comfort to people. The touches of chrome and distinct colors adds to its old-school charm. This electric scooter concept was displayed at the 2010 Paris Motor Show.
General Motors-Segway rolls out two-seat electric scooter called PUMA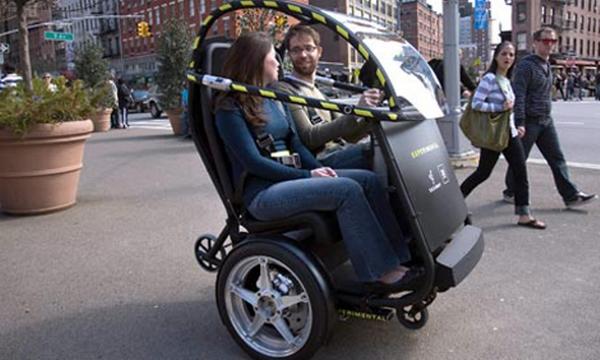 PUMA (Personal Urban Mobility and Accessibility) is a two-seat electric scooter, which is made by General Motors and Segway. This scooter has four wheels – one at the back (small) and one at the front (small), and two regular sized wheels on either side. It is an urban transport vehicle meant for cities and towns. PUMA is not only electric, but also sensory smart.
Electric Maxi-Scooter by Vectrix, launched in November 2006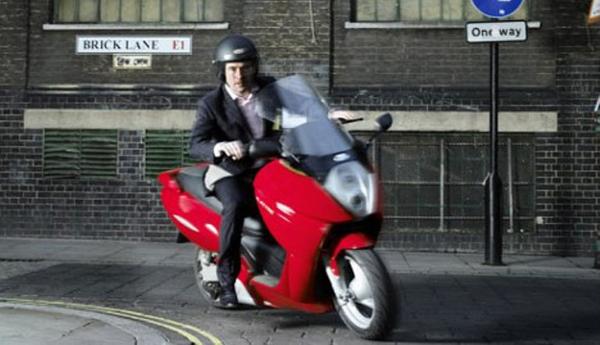 The Electric Maxi-Scooter designed by Vectrix was launched in November 2006 at the 64th International Motorcycle Exhibition in Milan. This electric scooter can travel at a 100 kilometers an hour, and can accelerate from 0-60 in 5.8 seconds. At first sight, the Maxi-Scooter looks like a racing bike, but it is actually a scooter. It is powered by a Nickel Metal Hydride (NiMH) battery pack that can be recharged in two hours, and lasts up to 1,700 cycles.

Honda unveils electric scooter called EV-neo in Japan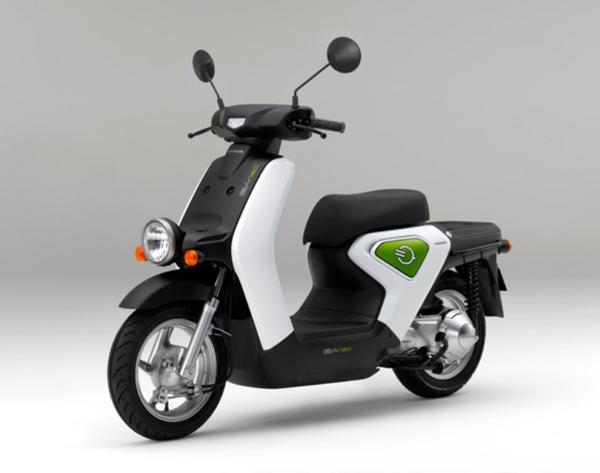 The Honda EV-neo is an electric scooter that works with a lithium-ion battery, and in the same manner as a 50cc petrol engine. The lithium battery in the EV-neo will take 20 minutes to charge up to 80 percent. But, if you are charging the electric scooter from a standard 100V power source, it will take 4 hours. The EV-neo can cover 30 kilometer per hour in a single charge. Honda claims that it is a "quiet and clean" scooter, which will help in creating a "low-carbon society."