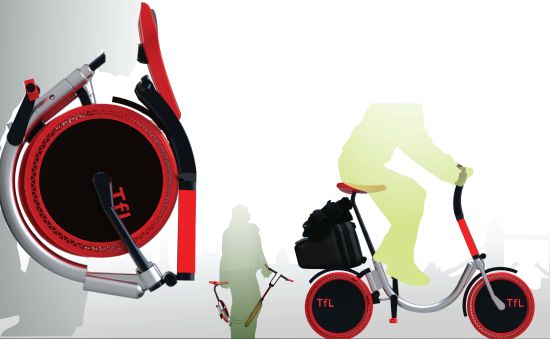 Designer Gabriel Wartofsky continues to amaze us with his sustainable auto designs. Earlier we covered his Renault Picnic zero-emissions vehicle, now it's time for a multi-modal transportation system. Hailed as "Minding the Gap," the multi-modal transit system is essentially designed for London that integrates an electric bike-share, smart bus hub network and a multi-tasking RouteMaster bus to increase both efficiency and desirability of London's iconic public transportation.

E-Bike Bikeshare
The TfL Bikeshare network provides commuters with a healthy and efficient way to realize the first and final leg of their journey. Ride the e-bike from home to hub, fold and deposit it, and board the bus without the bike. Reserve and rent another bike upon arrival at the destination hub. Commuters access Bikeshare using their Oystercard, and lease the service on per trip or monthly basis. Electric assist widens user demographic, and ensures a sweat-free commute. The bikes have airless tires, shaft drive and robust tubulat construction to ensure durability, while a laminated front bar and bright graphics increase rider visibility and safety.
Smart Bus Hub
E-Bikes are designed for the user to quickly and intuitively fold and deposit into storage modules upon arrival to a transit hub. The user's Oystercard gets charged via RFID technology according to amount of time the e-bike was rented for. When docked, the bikes serve as hub seating and recharge for the next user. The Transit hubs are designed to optimize the commuter's transitional experience between bikeshare and bus. Apart from access to bikeshare, hubs also provide commuters with real-time transit scheduling, cultural information about the surrounding neighborhood and basic shelter from the elements. Modular designing provides TfL with distinctive architectural identifiers throughout the cityscape, increasing both the visibility and desirability of London public transit. The average amount of time it takes for passengers to board a bus is 30 seconds. During this time, a small arm on the hub extends to charge the ultra capacitors on the bus to power it until the next stop.
Routemaster 2012 Electric Bus
Designed to both reference the spirit of the iconic original while meeting the needs of 21st century commuters, the routemaster12012 aims to optimize the convenience and desirability of public transit. These buses are powered primarily by an onboard battery and ultra capacitors. Specialized interior zones address the varied needs of passengers. Space directly across from the entrance and flat floors facilitate the ingress/egress of wheelchair-assisted passengers. Compact, ergonomically correct lens seats provides a safer location for short stop and standing passengers downstairs, while long-distance travelers and tourists can enjoy London from the panoramic second floor.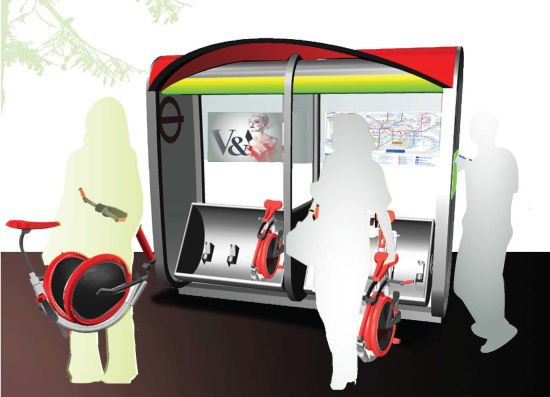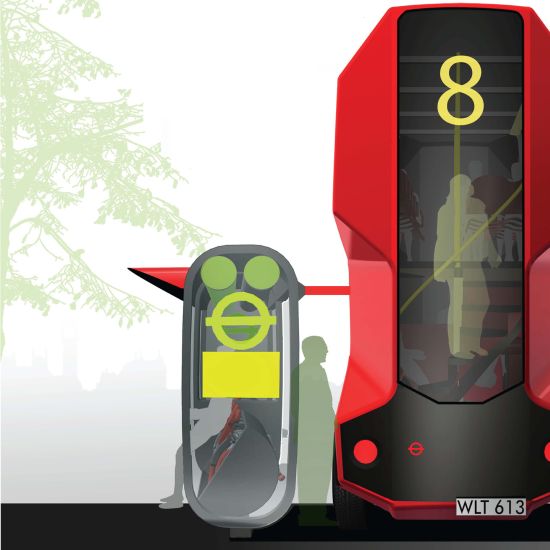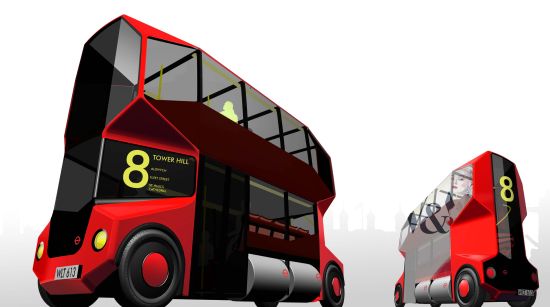 [Thanks Gabriel]