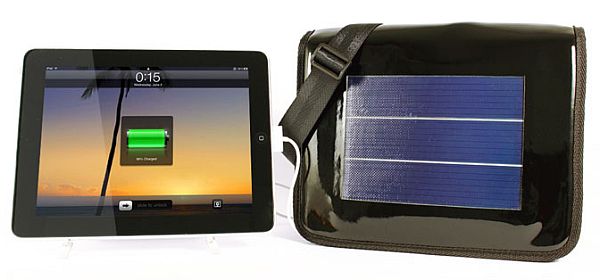 The gadget-seekers are always on the look out for fresh arrivals in the market. This one is tailored for the iPad users. This product, the Mini L Solarbag, can be an apt complementary device for the iPad users. The Swiss made Mini L Solarbag is the product of Element5, which has been termed as "A Mini Miracle." The solar bag has undergone "an elaborate and careful manual production in Switzerland" which is supposed to provide the highest quality product guarantee to its user.
We can find a host of solar bags which have been designed as per the need like the Reware Beach Tote, Voltaic Messenger, the stylish Noon Solar Augusta, Eclipse Solar Road Bag and many more reaching up to $411.Different bags have been designed differently according to the gadget requirement. The Mini L Solarbag has been specifically created to take care of the iPad, which is quite portable and handy. Besides providing uninterrupted battery charging facility to the user, the bag also provides adequate shielding against fall-outs and mishandling. Just ensure that your iPad gets the company of the solar bag.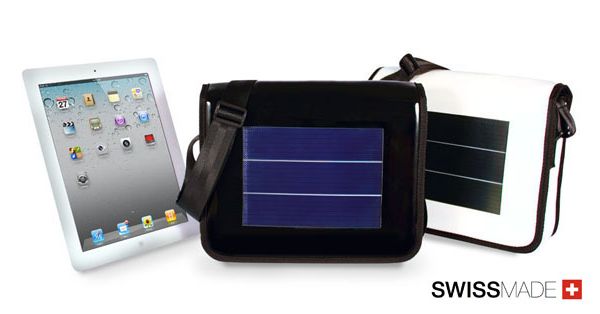 Since much information is not available about the product, you may have to wait a little in order to get appropriate feedback and information about the same from its maker. The maker describes the product as, "It starts with our revolutionary eMicro-Battery which sets new standards at recharging Smartphones and iPads. In addition, the all-new (BluCell) solar panel allows an efficient use of solar energy." The company, Element5, is aiming to add more sophistication to its product for better acceptance and novelty of the user.
It is an encouraging idea to use the iPad smartly with the Mini L Solarbag. Maintaining your gadget deserves equal importance as purchasing it because it adds extra life to your gadget. Element5 has given its "green" product for the users to save on the energy charges as well.Solar energy is sufficient to generate the required charging needed for your gadget. The Mini L Solarbag can be obtained for a price of 348 Swiss Francs (equivalent to $412).