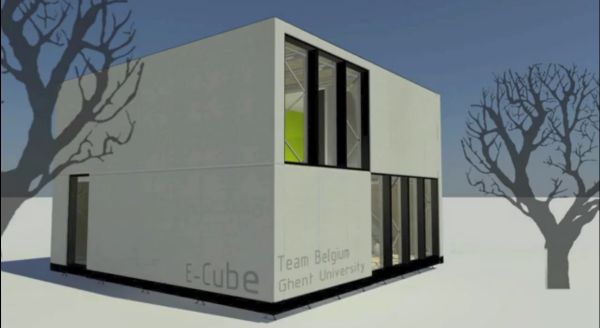 With so many energy efficient conceptions coming from firms and individuals all over the world, we can certainly say that low carbon architecture is vehemently progressing into the commercial scheme of things. On the other hand, the bulk of such designs and concepts entail a higher degree of technical expertise, regarding their state of utilization of advanced constructional systems. And this is where the E-Cube comes into the picture, as a convenient and rather collective alternative to zero-energy housing.
According to the researchers at University of Ghent, Belgium, who developed the concept, it is:
…an affordable do-it-yourself kit for an ecological solar-powered house, prefabrication factory and without any special technical knowledge to install.
So, from the statement, we can gather this is a flexible structural system. And, the building components can be assembled without the requirement of any specialized skills. As a matter of fact, the primary structural element is defined by a very simple form, and the users/owners can modify it according to their own tastes and of course budget. On the sustainability frontier, this house can be conceived by zero-emission human energy, while the overall finished structure will be powered by clean and renewable solar energy.
The adaptable form with flexible furniture will have design considerations pertaining to enhanced circulation and accessibility. Though the end product may not be suitable for all, the advantage of the conception lies in the fact that it can conveniently cater to eco-conscious people, who have limited budget at their disposal. So at the end of the day, we have the basic module of an economical, zero-energy shelter infused with dollops of sustainability.
Via: SpringWise