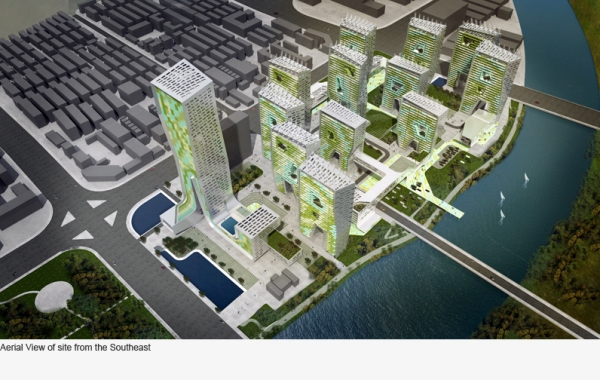 Weifang, centrally located in Shandong in China, is a special city popularly known as the 'Kite Capital of the World'. The noteworthy city is flying high these days with all the ongoing urban development in the area. Weifang is going to witness a drastic change in its urban landscape with an upcoming posh residential unit by Neil M. Denari Architects. The project, dubbed as Kite City, is spread over a 290,000 square meter with a range of development that includes commercial and residential series of tower blocks.
The NMDA proposes to construct a colossus tower in the park surrounded by a range of shopping areas. The urban landscape gives an aesthetic feel to the eyes with the Bailang River alongside the ambitious project. The tower will be lit by hues of greens and blues to give a natural feel to the surroundings. Due to the touch of nature, the spacious and airy residential site gives away a welcoming feel to the visitors.
The towers are basically arranged as per the traditional method of north-south preference of units. Each of the towers consists of floor that crosses through the apartments and has only four units per floor. With this new development, NMDA may throw up some light on new urban experience for the residents of the Kite City.
Source: NMDA