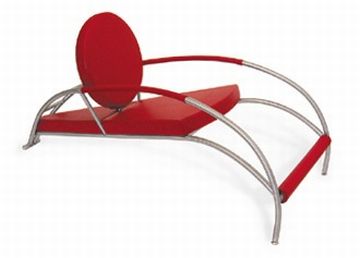 The Roadster chair gives you the feel of sitting in a race car, without having to spend on a Ferrari! It has a long steel body, and as you position on the seating space with your back on the cushion, you can surely pass for a race-driver. You can comfortably place your feet on the leather footrest.
I really don't know what the designer had in mind when he left half of the seat behind the back, covered by steel bars. I guess he didn't want to accommodate two!
Will let you know of the experience, if ever i get an opportunity to sit on it!
Price: $3790
Via: Elitechoice