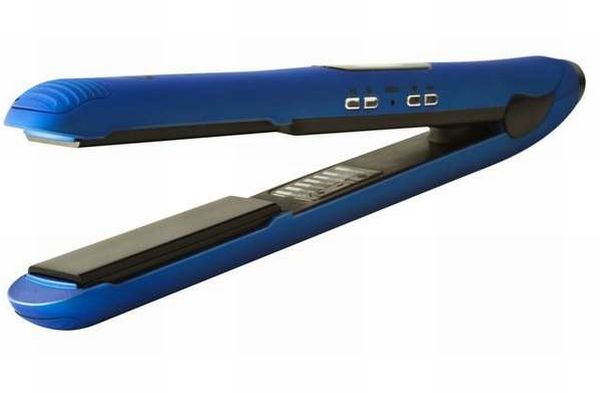 Anybody who's ever used a flat iron on hair will tell you that when you're using one, the last thing you miss is having an mp3 blasting off near your head. But I guess no one told that to the makers of this ONYX Ceramic Digital 1″ Hairstyling Iron which comes with a built-in mp3 player. Yes, a built-in mp3 player. Why does it have an mp3 player built into it you ask? Well, our best guess would be that the folks on the R&D team that developed this product for the firm probably have really short hair and don't know how annoying it would to actually use this product on long hair!
The hair straightener comes with 1" ONYX ceramic plates that apparently are capable of producing negative ions and even far infra red waves that seal in essential moisture in the hair and hence banish humidity to give you brilliant sheen. Squeeze Sensitive Floating Plates grip every hair strand with equal firmness, thus giving you an even straightening. The MCH heating elements heat up quickly and maintain an even temperature of up to 420 degrees.
All this is of course to be expected in a flat iron, but what really sets this gizmo apart from the competition is the HQ mp3 player built right into the iron that plays all your favorite tunes in both plugged-in as well as wireless mode. The iron can fit in up to 500 songs in its 2GB memory, so you don't have to fuss with attaching your thumb drive to the USB chord!
At $149.98, it's not really all that hard on the wallet although it might just be better to stick the flat iron you have and spend the cash on a pair of Bluetooth-enabled speakers that can play tunes from your cellphone!
Via: Trend Hunter