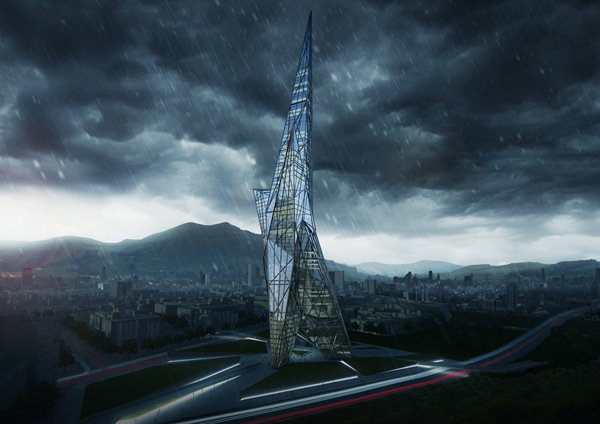 Every country has a landmark architectural wonder, a unique structure that its citizens can be proud of, This gives the country a unique identity among other global countries. Creating such structures, however, has become the newest trend, and Taiwan refuses to remain behind. Taipei 101 in Taiwan was the world's tallest building until 2010. The Burj Khalifa might have outrun Taipei in the world's tallest building competition, but Taiwan is ready for a comeback. The design of the new tower has already won the Merit Award at the Taiwan Conceptual Tower International Competition in 2010. The project is the team work of two firms, OODA and OOIIO; they will be creating a new landmark for Taiwan and showcasing Taiwanese architecture to the entire world.
The tower is 300 meters tall and will hold the attention of spectators with its sophisticated and unique design. It has incorporated designs from the diamond industry, and it resembles the structure of the Eiffel Tower in France.The tower has also gained inspiration from the traditional art of paper folding, Origami, and the geometry of the star/sun reference from the Taiwanese flag. All these designs and geometrical shapes have been collated to form this incredibly stylish and complicated tower.The tower will provide offices for the Taichung City Government, space for leisure and recreational activities like cinema, hotels, games, shopping malls, as well as flats and apartments and educational institutions. Another unique feature is the museum for the tourists and citizens, the new Museum of Taichung City Development.
The design is considered to present the new face of Taiwan. What will make the tower more interesting is the varied perceptions among the tourists and visitors stopping over to see it.The tower stands on three volumes from the ground level providing shelter to the people in the plaza below.This lovely place is a gathering area for visitors, tourists and citizens to communicate, enjoy and relax. The three volumes have three entrances joining in the middle, where the tower rises. The authorities have made it a point to accommodate and engage all public activities in the main body of the tower. There are infinite sky lobbies that provide sightseeing zones to the visitors and offering a splendid view of the city. This project is gonna be one of Taiwan's greatest contributions to the world.
Via: eVolo