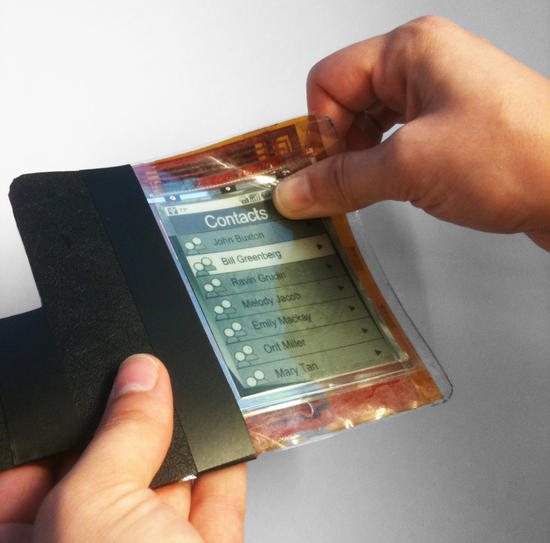 If you thought that your prized iPhone4 was the latest in mobile technology, then research teams of Queen's University, Canada and Arizona State University have just proved you wrong by creating a new prototype paper phone that boasts of a lightweight flexible 9.5-centimeter display screen.
The USP of the phone is that although it looks like a paper document, it is actually a bendable piece of plastic layered with a "flexible printed circuit with resistive bend circuits," which identifies the bending of the display screen into different positions, so as to allow the user to use any and all apps. For example, by bending the upper-right corner you can make a call, and by bending the lower left corner you can listen to your favorite music. The phone uses a unique E-Ink display to allow the user to choose the shape for each function.
The only thing missing in this phone is a camera. But Prof. Roel Vertegaal, director of Queen's University's Human Media Lab feels that these can easily be added to all such future phones. While the phone is not yet available over the counter, the research group hopes to see it in the market in another ten years.