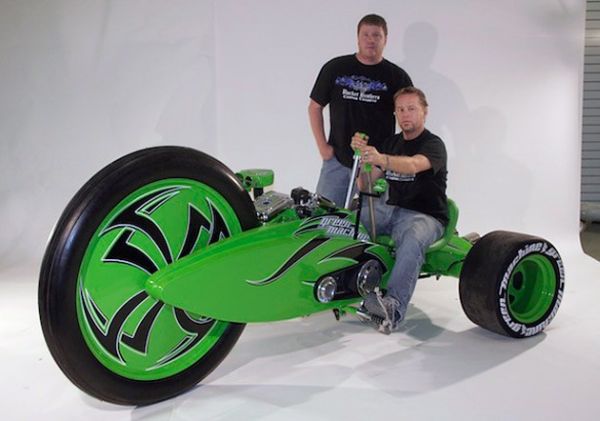 The people at Parker Brothers Choppers are known for developing machines that are one-of-a-kind and keeping up with their good work they have now come up with a bike, that's world's largest Bigwheel. The machine is not for faint hearted and is meant for strong guys as it comes fitted with an 80-cubic inch Harley Davidson Evo engine.
It has a 45-inch front wheel but you need not worry as you don't need to pedal such a huge wheel. Then you must be wondering how will the Bigwheel move? , The answer is that the vehicle will move forward by a pair of levers that also control the rear wheels. The Bigwheel can pick up a maximum speed of 30 miles per hour, which is really good.

"We had a Green Machine lying around the shop and we figured it would be a cool idea. It rides crazy and is fast as hell. If it wasn't for the rear tires we could have had it DOT approved,"
said Parker Brothers' Jeff Halverson to Wired. The guys are planning to contact the officials from the Guinness Book of World Records to register their machine as the world's largest wheel on a motorcycle trike.
I am excited to know about this machine and I am sure you are also feeling the same. Check out the image gallery to know more about the machine.
Via: Autoblog