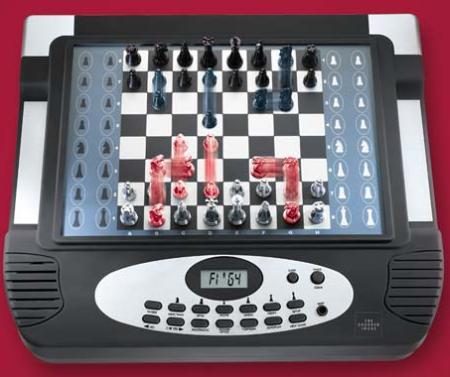 If you want to make your chess game more interesting and at times if you don't find an equal competitor, then this amazing Phantom Chess Game is the best substitute. Unlike the normal boards, it has real pieces that move across the board automatically. Along with the moves you can hear a voice that will guide your moves. Simply superb! right?

This intelligent chessboard has 2 modes of games and they are,
1) Phantom moving its own pieces in competition with you, and
2) Phantom playing both sides.
From now stop worrying about setting the pieces again as it will be done automatically by the board. Very sweet chessboard!
You even don't need to worry if you are a beginner, as the Phantom board will guide you with it's expert commentary and advice. It will not only talk you through moves, but also will check your progress. You can even get hints if asked from this friend like chessboard. Too good!
Not only that, it also has something called coaching mode. In this mode you can hear an alarm sound when you are in checkmate looms in five moves.
Even if the game is stopped in between when relatives or friends visit home, you can save the interrupted games and continue from where it was stopped. The pieces will find their spots when you restart the stopped game. Amazing!
Chess players would love this very usefull, friend-like, amazing, too good and wonderful Phantom Chessgame!
Not only to the chess players but also it's a great show for everyone!
Via: GadgetGrid