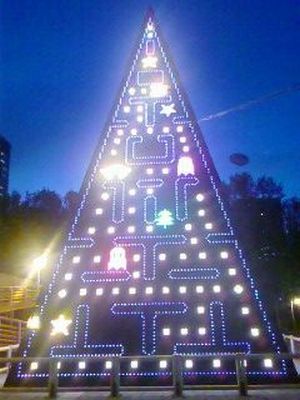 With Christmas right around the corner, you probably have some big plans for your room. Folks have tried designing some very unique Christmas tree. The latest design is a Pacman Christmas tree. This unique Pac Man design was discovered in Madrid right next to Torre Picasso. Wow, I think this is what I need for Christmas. This tree is ideal for Pac Man lovers. If you don't know who or what Pac Man is, here's more.
Pacman is a computer game from back in the day. The game was developed by a Japanese company now known as Namco Banzai. Shortly after being released, the game gained immense popularity throughout North America. Plenty of kids got addicted to this game.
This is basically an old school shoot 'em up arcade game. I remember playing it in school. Hopefully, after this short description you can realize the Pac Man madness. People are so fond of this game that they even designed a Christmas tree on it.

Image Credit: Soygeek