Fashion is no longer restricted to people who fall under the small, medium or large size. Today even plus size clothing has evolved with different kinds of styles and silhouettes. Designers are going out of the way to help plus size people get clothes that suit them while keeping in mind the latest fashion trends. Many online portals like Zaful offer a wide range of fashionable clothing for plus size people. From beautifully designed tops to even stylish dresses, trendy pants and beachwear, there is a lot you can find. Here are a few beautiful looking plus size choices that you can consider for your next wardrobe change.
Plus Size Bowtie Floral Cut Out Romper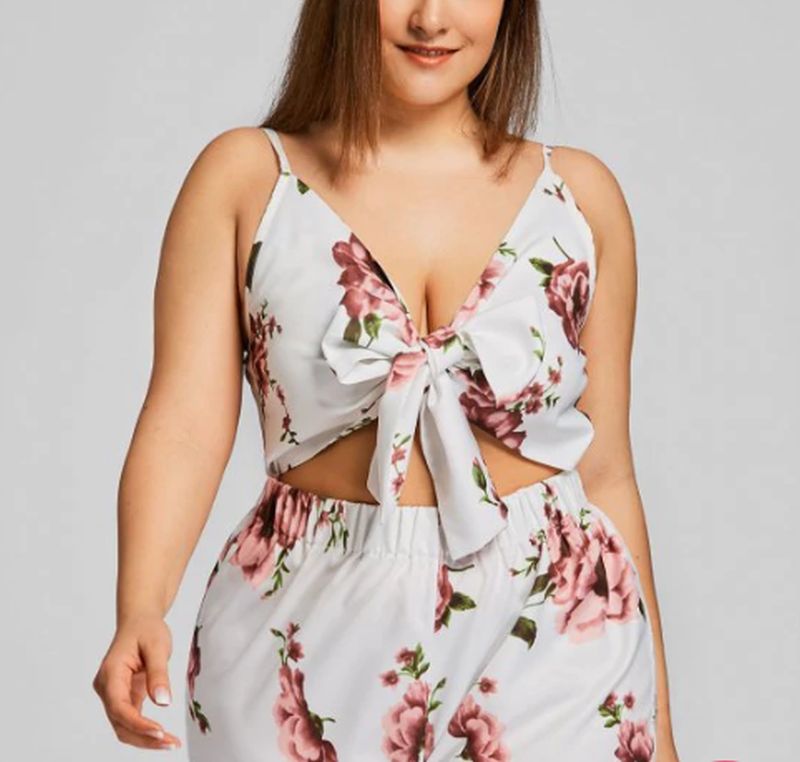 Image Source : zaful.com
The bowtie Floral Cut Out Romper is a perfect addition for women who love to make a style statement even if they have curves. You can check out this attire when you are buying plus size clothing online. The size available ranges from XL to 5XL. It is a beautifully printed white colored combo.
Plus Size Asymmetrical Bodycon Dress
A beautiful and subtle pink colored dress, the size availability varies from 2XL to 4XL. This A-lined bodycon dress along with its full sleeves is not only a perfect addition to your plus size clothing wardrobe, but also ideal for office and party wear. It is lightweight and made from a blend of Spandex, Polyester and cotton.
Plus Size Floral Chiffon Off The Shoulder Hawaiian Blouse
Another beautiful and trendy plus size clothing that you can consider is the off shoulder blouse. The summery print gives it the Hawaiian touch. It is an ideal addition to have for your casual wear. Blend this with a pair of jean pants, skirt or a white colored sneaker, and you are all set to make heads turn.
Plus Size Striped High Split Dress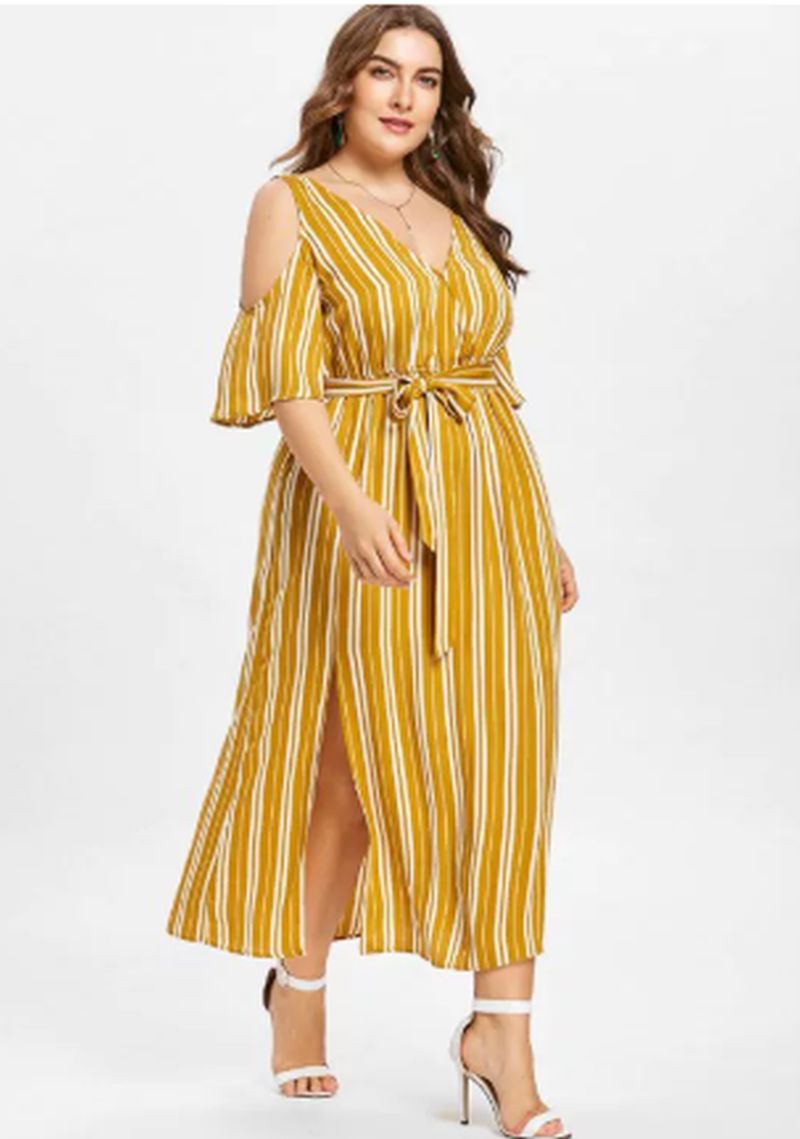 Image Source : zaful.com
Want to add an element of style to your summer wear; then this striped dress is worth a thought. If you are online shopping for plus size clothes; this dress is one of those classics that can never die out. The size ranges from XL-5XL.  It has a perfect-A-lined silhouette with a beautiful and simple V-Collar neck line. The striped dress will make a perfect addition to your casual wear.
Plus Size Embroidery Off The Shoulder Capelet Top
The next item that is recommended in the list of must have plus size clothing is this embroidered off shoulder top. It is a simple black colored top with an embroidered black colored lace to bring in the style. The size varies from XL-5XL. Made from polyester, the shoulder capelet top is just perfect to wear during the summers, spring and fall season.
Plus Size High Rise Maxi Palazzo Pants
Since Palazzo's are in style, we cannot miss out on including this one in the list. You get a variety of color options like black, white, army green, deep red and pink. The size options available range from XL-3XL. It has a bell bottom with high waist. This will surely be one of the plus size clothing selection that you would want to have.
Apart from the above mentioned list, you also have a wide selection of tank tops, swimwear and lots more. Just click here and start your wardrobe shopping today.
Article Submitted By Community Writer