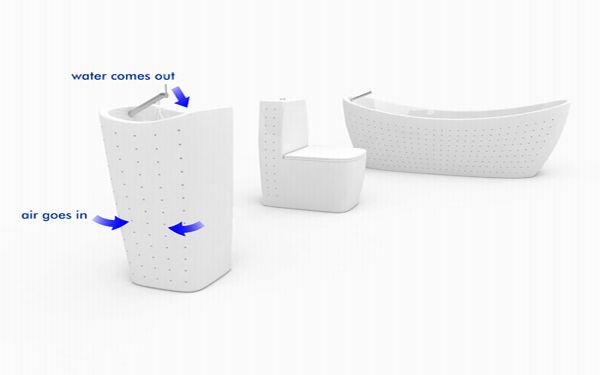 How about an apparatus that can create water from the surrounding air? Stunned! Don't be and read ahead. Joas Goncalves has designed the Waterfactory bathroom equipment, which will intelligently produce water from humid air. It consists of a bathtub, a toilet and wash stand that have a perforated facade.
Air has a lot of humidity and is present everywhere. The designer has made good use of this fact while designing the bathroom equipments, which have been crafted in Corian. A system, powered by electricity, is neatly concealed inside the surface. The air passing through the system is filtered and then condensed into water. Further, the water is filtered with the help of microfiltration and UV filters making every drop pure. This is further pushed towards the cold or hot water container.
In this water scarce world, Waterfactory bathroom equipment can prove to be a blessing in disguise. They white colored tools have been designed in an eye-appealing manner. The facade is very graceful and has been given a clean appearance. So, if you want to make good use of the humid air around you, then installing the Waterfactory bathroom equipment will prove to be a wise decision.
Via: Joaogoncalves