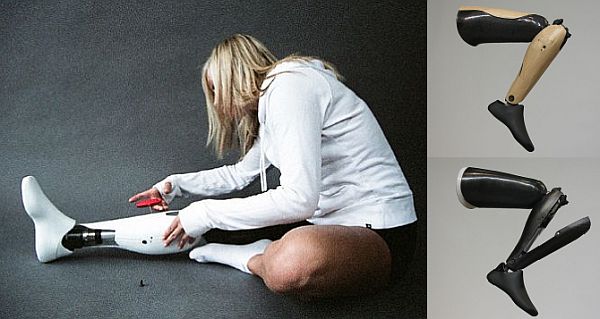 Prosthetic give a new meaning to the life of people who have lost their limbs. It adds confidence and also promotes mobility. But prosthetic limbs have a typical steel appearance that make users slip into a sullen state. The sad looks are a constant reminder of the limb they have lost. Mircea Juverdeanu has come up with the Proaesthetics project, keeping in mind the needs of this section and their craving to look good.
The project will try to bring back the lost confidence and make amputees walk with grace. Present day cosmetic treatments are very expensive and need a lot of maintenance. The project will not burn a hole in buyers' pockets and help them feel great about themselves. The prosthetic limb will be nothing less than a fashion accessory and will add a new meaning to the present mobility treatments.
The name Proaesthetic clearly indicates the aesthetic value involved in the project. The stylish limbs have been crafted in three different ways, which will allow the user to pick and choose according to their personality. These can be further customized as per a user's taste. The designer has derived heavy inspiration from Munny designer toys and snowboarding for this project.
The Proaesthetics project will let amputees stay stylish with aesthetically appealing designs. It will let them socialize with restored confidence and help put a fashionable foot forward.
Via: CargoCollective