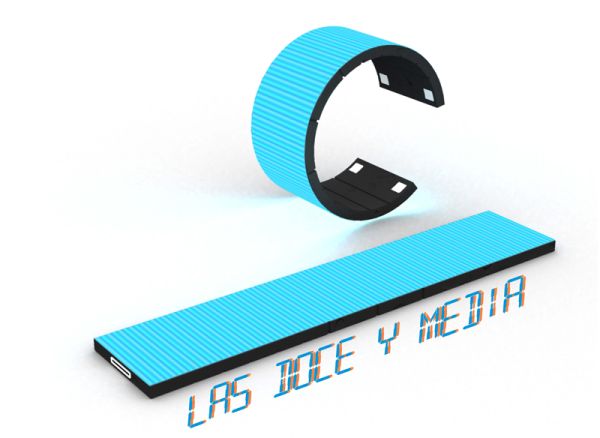 Fashion has arrested our senses in such a way that it's hard to escape the magic. Trends change every single day and accessories that should match with our clothes have become an essential part. A watch is one such accessory that can add an unending grace to a wearer's personality. A good timepiece, however, comes with a heavy price tag and buying one every now and then is not possible. So, Josué Gamonal has designed the Las 12 y media, which can be easily customized and matched with your outfit.
The watch has a supple strap that looks like a scale when not worn around the wrist. It has been injected with modern technology that will add a fresh face in the world of watches. The elegant piece needs to be charged like a mobile phone to keep it in working condition. Simply plug the cable into the provided slot and couple it with your computer.
The most enthralling part of this watch is its ability to change color. The outer skin/screen can be personalized like the wallpaper on a desktop. The screen can change color as per the taste of a user. The flexible screen watch will come with a micro SD card. It will have a 2GB memory and could be used to store your favorite pictures, messages and wallpapers.
With the Las 12 y media, stop feeling stuck with the same watch every day. Personalize the screen whenever you feel and leave an everlasting impression. Decorate your wrist with this elegant timepiece and fetch unending admiration.
Via: PinkElephant