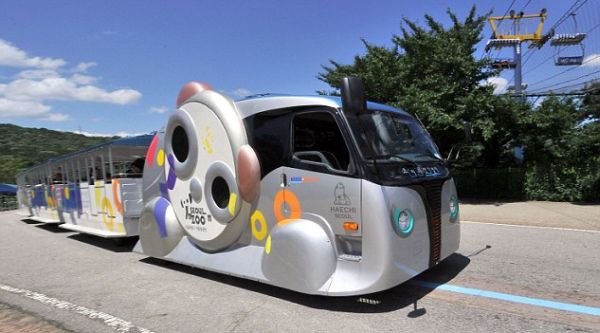 Asia at large may not have the best reputation in the world as a big supporter of the pro-environment bandwagon, nonetheless countries in this region are taking their eco-duties seriously in small measures. And the latest in the series of innovations to go green is the eco friendly electric tram that is now ferrying tourists across the Seoul Grand Park in Gwacheon, South Korea. Powered by specially designed magnetic strips beneath the road, the Online Electric Vehicle (OLEV) has replaced the diesel engine tram that was used by the park earlier and runs on a hi-tech electric system that juices up from power strips buried under the road.
Created by KAIST (Korea Advanced Institute of Science and Technology), the OLEV utilizes non-contact magnetic energy that is provided by chargers hidden underneath the road's surface that allow it to charge up seamlessly while running over them. Since the batteries used in the cutting-edge design are less than 20 percent the size of the kinds used in regular EVs, the tram is able to function on a relatively small amount of charge thus eliminating the need to have recharging docks positioned along the track.
The tram currently tows three carriages and powers itself while running over the 400 meter charging strip laid out in four sections along the route. A prototype of the model was trialed last year and with the successful launch of this OLEV, it is to be expected that the technology may soon be picked up by public transportation systems across the globe.
Via: Dailymail