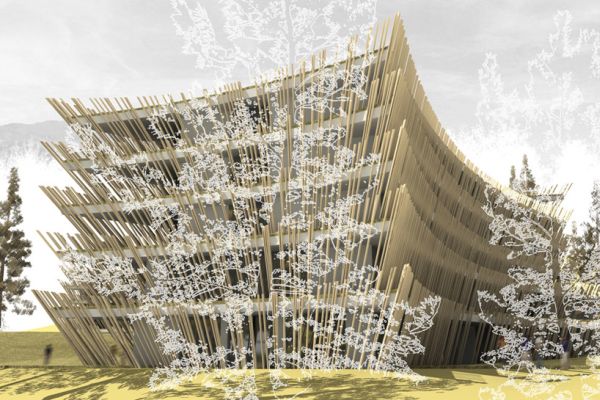 Novelty is the name of the game in this fascinating design proposal of Mivka Hotel. Conceived by Slovenian architectural firm Enota, the design comes forth as a naturalistic extension of the already forested site. The curved demeanor of the structure in turn directly influences it spatial nature, both in terms of shape and volume.
The cluster of concave elements stacked atop each other forms the organic demarcation of each floor line (thus leading a total of 5 floors). The curved nature of the structure is further defined by the conspicuousness of the vertical timber slats projecting out from the base-edge of each floor. These vertical members mainly serve two purposes, both in relation to visual aesthetics and intrinsic privacy.
Firstly, as naturalistic elements, the unprotected timber helps the total structure to coalesce into the forest surrounding. This certainly lends credence to the sustainable nature of the unique concept. Secondly, and more practically, the natural barrier (both visually and physically) created by the upright slats accentuates upon the level of privacy and safety. Thus, a blatant psychological idea of a well protected "shelter" is disseminated within the hotel guests.
The uniquely intriguing shape of the building is also conceived in a way, so as to facilitate accessibility and circulation. From the perspective of energy usage, the orientation and natural essence enhances upon the degree of induction natural light. This enticingly culminates in an apt fusion of color, light, landscaping and ultimately the convenient regulation of micro-climate.
Via: DesignBoom